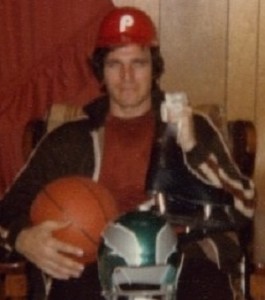 Hey, my name is Barry Bowe and Blame My Father is my brain-child. If you're curious about the derivation of the name, check out the About page.
The photo is from 1978. As you can see, I was four-for-four all along.
Blame My Father is a blog that – for the most part – covers Philly sports. There's no staff pumping out story after story about the same topics being discussed by everyone else, everywhere else. So if you're looking for carefully-crafted one-of-a-kind articles, then this is a place for you. And when a common topic can't be avoided – I'll try to find an original slant.
In addition to the above, at the beginning of the 2015 NFL preseason, Blame My Father promoted me to be its official Eagles Outsider beginning immediately.
As the calendar transitions from 2015 to 2016, I'm going to be adding posts about the Sport of Kings – i.e. thoroughbred horseracing. More about that as the concept solidifies.
Thanks for your interest.
Barry 
In addition to being the official Eagles Outsider for BlameMyFather.com, Barry Bowe is also the author of:
Soon-to-be-published sexy, police procedural Caribbean Queen
Soon-to-be-published novel Stosh Wadzinski
Soon-to-be-published novel Polish Widow