Wednesday – July 1
With a 3-3 start on the road trip, the Phillies were going to Los Angeles for two games with the Dodgers.
Last year's World Series champs were under-performing thus far in 1964 and found themselves stuck in seventh place – 10½ games out of first place.
The Phillies won four of the first six games with the Dodgers. On the other side of the coin, the Dodgers were coming off a win over the Pirates after losing four straight.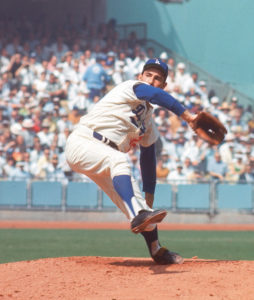 A pair of left-handers in the series opener in front of 39,823 fans at Dodgers Stadium:
Dennis Bennett (8-4)
Sandy Koufax (10-4)
After a slow start, Sandy Koufax was having another stellar season. He'd already racked up five complete games and four shutouts – including the 3-0 no-hitter he threw against the Phillies a month earlier at Connie Mack Stadium.
But Dennis Bennett hadn't won since picking up his eighth win two weeks earlier – plus he was being plagued by tendonitis in his throwing arm.
On to the Action
The Phillies got to Sandy Koufax in the top of the fourth:
Cookie Rojas tripled and Johnny Callison homered (#11) to give the Phils a 2-0 lead – RBIs #40 and #41.
The Dodgers played small-ball to get into contention in the fifth:
With one out, Ron Fairly walked, moved to third on Johnny Roseboro's single, and scored when Derrell Griffith grounded out to second.
And they took the lead by playing more small-ball in the sixth:
Maury Wills singled and moved to second on Nate Oliver's bunt.
Willie Davis singled and Wills scored – drawing a throw to the plate that allowed Davis to move up to second.
When Tommie Davis flew out to deep center for the second out, Willie Davis tagged and went to third.
Gene Mauch ordered an intentional pass to Frank Howard to get to left-handed bat Ron Fairly.
But the strategy failed when Fairly singled to score Willie Davis and give the Dodgers a 3-2 lead.
And that was it for the scoring.
Sandy Koufax (11-4) retired nine of the last ten batters he faced to sew up the complete-game victory. That gave him two wins and a save over the Phillies –giving up just two runs on six hits in 21 innings of work.
Dennis Bennett (8-5) took the loss.
---
Around the League: The Giants beat the Pirates 2-1 thanks to another complete-game performance by Juan Marichal (11-3). The Giants win – coupled with the Phillies loss – dropped the Phils a game-and-a-half behind the Giants.
---
In addition to being the official Eagles Outsider for BlameMyFather.com – Barry Bowe is also the author of:
Soon-to-be-published sexy, police procedural Caribbean Queen
Soon-to-be-published novel Stosh Wadzinski
Soon-to-be-published novel Polish Widow
Work-in-Progress A Fuckin All-American