Friday, July 10
Two lefties – Dennis Bennett (9-5) and Jim O'Toole (8-4) faced off in the second game of the series.
Play Ball: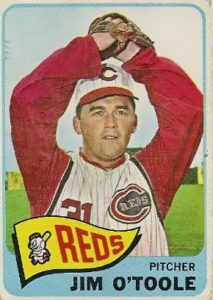 After Dennis Bennett and Jim O'Toole pitched a pair of scoreless innings, the Reds took the lead in the top of the second:
Frank Robinson walked and scored when Deron Johnson followed with a double.
The Phillies tied it up in the bottom of the second:
Richie Allen walked.
One out later, Roy Sievers singled and sent Allen to third.
One out later, Ruben Amaro singled to score Allen.
Then the Reds took a 2-1 lead in the third:
Pete Rose and Tommy Harper singled.
When Vada Pinson hit into a 3-6-3 double-play, Pete Rose scored to take the lead.
The Reds added a run in the fourth:
Deron Johnson homered (#8).
After that home run, Dennis Bennett told Gene Mauch that his arm miseries were acting up, so Mauch replaced him with Ed Roebuck (2-2).
The Reds added two more in the fifth off Roebuck:
With one out, Vada Pinson tripled and Frank Robinson homered (#15) to end the scoring at 5-1.
Jim O'Toole (9-4) pitched a scoreless inning in every inning except the second in picking up the win.
Dennis Bennett (9-6) took the loss.
---
After the Game: Phillies management decided to give Dennis Bennett some time off to rest his arm.
---
Around the League:
The Giants beat the Cubs 10-3 on home runs by Willie Mays (#26 and #27), Orlando Cepeda (#15), Jim Ray Hart (#11), and Jesus Alou (#2). That win pulled them within ½-game of the first-place Phillies.
---
In addition to being the official Eagles Outsider for BlameMyFather.com – Barry Bowe is also the author of:
Soon-to-be-published sexy, police procedural Caribbean Queen
Soon-to-be-published novel Stosh Wadzinski
Soon-to-be-published novel Polish Widow
Work-in-Progress A Fuckin All-American