Sunday, July 26 – First Game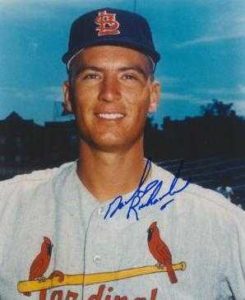 Pair of rookies starting the first game of the doubleheader:
John Boozer (1-1) for the Phillies.
Gordie Richardson (0-0) for the Cardinals.
Gordie Richardson was a 25-year-old rookie making his first start in the majors. A lefthander, he was promoted from the Jacksonville Suns after going 9-3 with a 1.55 ERA, five complete games, and two shutouts.
Play Ball:
After a scoreless first inning, the Cards scored in the second:
Bill White, Mike Shannon, and Julian Javier singled to load the bases.
Tim McCarver made it four straight singles – White scoring.
One out later, Curt Flood hit a two-run double to make it 3-0.
And the Cards kept tacking on runs.
In the third:
Ken Boyer tripled and Bill White singled.
In the fourth:
Tim McCarver doubled and scored on Curt Flood's single.
The Phillies finally scored in the bottom of the seventh:
Richie Allen and Alex Johnson doubled.
But the Cards answered right back in the eighth:
Tim McCarver tripled and scored on a sacrifice fly to end the scoring at 6-1.
Rookie lefthander Gordie Richardson (1-0) made his first big-league start a good one – giving up just that one run on five hits while striking out five in the complete-game 6-1 victory.
John Boozer (1-1) took the loss – and Gary Kroll made his debut by giving up one run on three hits in two innings.
Sunday, July 26 – Second Game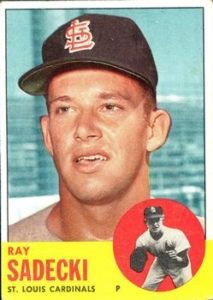 Art Mahaffey (9-4) versus Ray Sadecki (10-8) in the nightcap. Sadecki was 2-0 against the Phillies with two complete games.
The Cards scored two runs in the second:
Ken Boyer singled and Dick Groat walked.
Bob Skinner singled to score Boyer – and then Groat scored when Tony Gonzalez kicked the ball around in center.
And they scored two more in the fifth as they took a 4-0 lead.
Jerry Buchek tripled and scored on Curt Flood's single.
Flood stole second and scored on Ken Boyer's single.
The Phillies averted a shutout in the bottom of the ninth:
Cookie Rojas doubled and Richie Allen singled to make the final score 4-1.
Ray Sadecki (11-8) gave up one run on five hits over the full nine innings in picking up the win.
Art Mahaffey (9-5) took the loss – the third straight for the Phillies.
The Cards not only swept the doubleheader, but they also took 3-of-4 from the Phillies in this series – moving them to within seven games of first place and leading the season series 9-4.
---
After the Game:
The Phillies returned Costen Shockley to the Arkansas Travelers. His average was .207 in 29 at-bats – with one home run and two RBIs.
---
Around the League:
The Giants beat the Dodgers 5-2. That victory – coupled with the Phillies double-loss – pulled the Giants to within ½ game of first place.
---
In addition to being the official Eagles Outsider for BlameMyFather.com – Barry Bowe is also the author of:
Soon-to-be-published sexy, police procedural Caribbean Queen
Soon-to-be-published novel Stosh Wadzinski
Soon-to-be-published novel Polish Widow
Work-in-Progress A Fuckin All-American