Friday – May 1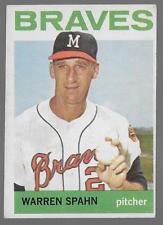 Riding a three-game winning streak, the Phillies (9-2) traveled from Cincinnati to Milwaukee for three games against the Braves (8-5). The 1964 Braves were in third place – trailing the Phillies by two games – and coming off back-to-back victories over the Pirates.
Jim Bunning (2-0) versus veteran lefty Warren Spahn (1-1).
---
Clinging to a slim 1-0 lead entering the top of the sixth, the Phillies added three runs to take a 4-0 lead.
Danny Cater doubled with one out.
Gus Triandos singled – but Cater had to hold third.
After the second pitch to Bobby Wine, working out of a stretch, Warren Spahn wheeled and picked off Cater at third. Triandos took second on the play.
Spahn then walked Wine intentionally to get to Bunning.
But Bunning foiled the strategy by hitting a single to right that scored Triandos to make it 2-0 – Wine advancing to third.
With Tony Taylor batting, Spahn uncorked a wild pitch and the runners moved up a base – Wine scoring to make it 3-0 and Bunning moving up to second.
After Taylor singled to move Bunning to third, Johnny Callison singled to score Bunning and extend the lead to 4-0.
---
The Phils added another run in top of the ninth of a solo shot by Richie Allen (#6). So Jim Bunning was riding a 5-0 shutout entering the bottom of the ninth – but ran into trouble.
Ed Bailey led off with his third home run of the season – the first allowed by Bunning.
One out later, Frank Bolling singled to left.
Bunning got pinch-hitter Gus Bell looking at a third strike for the second out – and the game seemed to be in the bag for sure.
But Mike de la Hoz singled and Bunning hit Lee Maye to load the bases with two outs.
Not wanting to risk the 5-1 lead, Gene Mauch replaced Bunning with lefty Chris Short (0-0) to face Eddie Matthews. Short had already made three relief outings – all of them scoreless – while striking out eight of the 11 batters he faced and picking up a save.
But Short walked Mathews to force home a run that made it a 5-2 game – and the bases remained loaded with two outs.
Playing the percentages, Mauch replaced Short with right-hander Ed Roebuck (0-0) to face Hank Aaron – Roebuck's third outing since joining the Phillies. He'd yet to give up a hit and had already notched a save.
But Aaron foiled the strategy by stroking a single that scored Mike de la Hoz to make it a two-run game at 5-3.
The bases remained loaded and the sure-win was not-so-sure anymore. But Roebuck got Joe Torre to ground out to end the game.
---
Jim Bunning (3-0) got the win and Ed Roebuck picked up his second save in three relief outings. Warren Spahn (1-2) took the loss.
Richie Allen went 2-for-4 to up his average to .431 and give him six home runs and 13 RBIs for the season.
The Phillies winning streak extended to four straight and gave them 10 wins in the first 12 games.
---
Around the League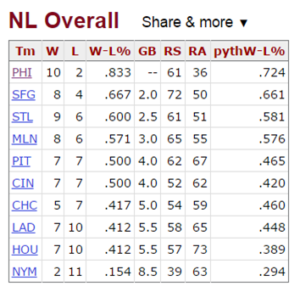 Don Drysdale dominated the Giants 7-1 in front of 52,733 fans in Dodger Stadium. He gave up five hits while striking out nine.
The Dodgers racked up 12 hits – Willie Davis (4), John Roseboro (3), and Dick Tracewski (2).  No home runs.
The Giants loss, coupled with the Phillies win, fans watched Don Drysdale dominate the Giants 7-1 while striking out nine and allowing just five hits. That loss dropped the Giants two games behind the Phillies.