Tuesday – May 12
College students across the country were burning their draft cards and shouting "We won't go" and "Make love not war." The well-organized protest was the first protest of its kind – but not the last.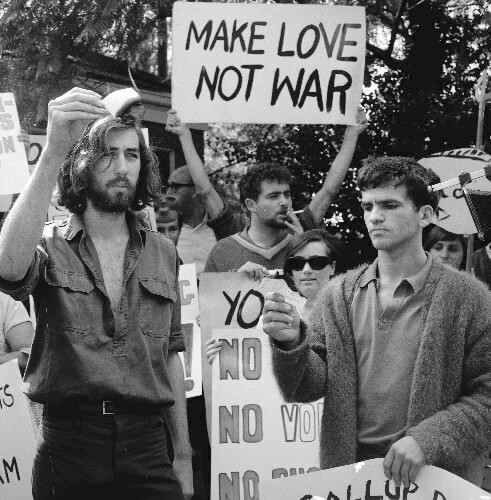 Back to the Action – After a scoreless first inning, Art Mahaffey encountered a fit of wildness in the top of the second that loaded the bases with three walks. Finally, he found the strike zone, but yielded a run scoring single to Julian Javier that put the Cards on top 1-0.
And the Cards got to him again in the top of the third:
Doug Clemens tripled and scored on Dick Groat's double to make it 2-0.
Groat moved to second on a wild pitch and scored on Ken Boyer's single to make it 3-0.
Gene Mauch needed Chris Short to get the last two outs, and then he lifted Short for pinch-hitter Don Hoak in the bottom of the third.
In came Dallas Green to pitch the fourth, but he gave up his first run of the year:
Julian Javier led off with a double.
Trying to move Javier to third, Curt Simmons bunted. Gus Triandos pounced on the ball and threw to third – trapping Javier between second and third and retiring him on a 2-6-5-3 rundown for the first out. Simmons was safe at first.
Curt Flood walked to put runners on first and second.
Doug Clemens doubled to center to score Curt Simmons and make it 4-0 Cards – the first earned run Green allowed.
Flood stopped at third to put runners on second and third.
Groat hit a liner to left that spelled trouble, but Danny Cater made a diving catch and doubled Flood at third with a 7-4-5 double-play.
Former Phillie Curt Simmons (3-2) earned the win by giving up single runs in the sixth and eighth – and Roger Craig came on with two on and one out in the bottom of the ninth to nail down the save (#3).
Art Mahaffey (2-2) took the loss.
It was the third straight loss for the Phillies and dropped their record to 0-and-4 against the Cards.
Around the League – Juan Marichal (6-0) tossed a 6-0 shutout over the Colt 45s that enabled the Giants to establish a two-game edge over the bunched Phillies, Braves, and Cardinals.
---
1964 – The Year the Phillies Blew the Pennant was originally published two years ago – but please don't purchase it right now. I'm in the final stages of streamlining the original to make it a better reading experience.
I'll let you know when it's ready.
---
In addition to being the official Eagles Outsider for BlameMyFather.com, Barry Bowe is also the author of:
Soon-to-be-published sexy, police procedural Caribbean Queen
Soon-to-be-published novel Stosh Wadzinski
Soon-to-be-published novel Polish Widow