Sunday – May 17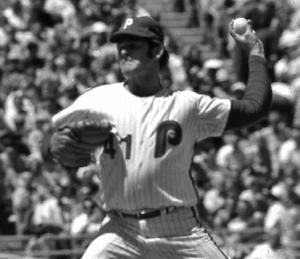 Chris Short (1-1) baffled the Colt 45s on five hits while striking out nine in posting his first win of the year. The 2-0 complete-game shutout lowered his ERA to 0.39.
Phillies bats managed only single runs in the third and the sixth – but that's all they needed.
Phillies third:
Johnny Callison and Wes Covington hit back-to-back doubles and to make it 1-0 Phillies.
Phillies sixth:
Tony Gonzalez led off with a walk.
Gus Triandos laid down a bunt. Jim Owens charged the ball – but kicked it for an error allowing Gonzalez to move to second and Triandos to make it safely to first.
After Bobby Wine struck out for the first out, Chris Short bunted the runners to second and third.
Tony Taylor's two-out single sent Gonzalez across the plate to end the scoring at 2-0.
Jim Owens (1-3) pitched well for the Colt 45s – allowing just six hits and one unearned run in six innings of work – but took the loss. Claude Raymond finished up with three hitless innings.
Around the League – The Giants shut out the Mets in both ends of a doubleheader:
Bob Hendley (3-3) stifled the Mets 6-0 in the first game on just three hits.
Ron Herbel (1-0) gave up seven hits while striking out eight in the 1-0 nightcap.
The two wins enabled the Giants to pick up ½-game and move one full-game ahead of the Phillies.
---
In addition to being the official Eagles Outsider for BlameMyFather.com, Barry Bowe is also the author of:
Soon-to-be-published sexy, police procedural Caribbean Queen
Soon-to-be-published novel Stosh Wadzinski
Soon-to-be-published novel Polish Widow