From the Desk of Eagles Outsider Barry Bowe
COLD CHILLS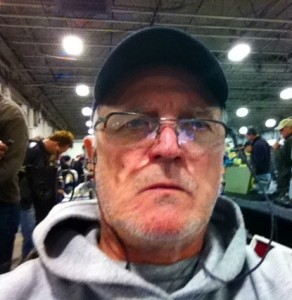 The hairs on the back of my neck bristle and cold chills run up and down my spine every time I hear someone say that LeSean McCoy is the greatest running back in Eagles history.
Far from it.
For those people making such statements, let me mention that Eagles history started when Bert Bell and Lud Wray put up a $2,500 franchise fee in addition to paying off another $11,000 in debt service to the NFL. Those transactions took place way back on July 9, 1933. By the way, you can read all about that part of Eagles history in Birth of the Birds.
In other words, a lot of running backs have toted the leather for the Birds between the inaugural season of 1933 and the present. But this much is a fact: Shady McCoy gained more rushing yards than any other Eagles running back ever.
Period.
But there's more to be a running back than carrying the football. I won't get into blocking because there are no measurable statistics to gauge a running back's prowess as a blocker. But in addition to running the football, a running back is also supposed to catch passes and, ultimately, to score touchdowns.
Some Eagles running backs were also versatile enough to add punt returns and/or kickoff returns to their résumé. So I factored in all of the variables – using my own set of analytics – to come up with my personal list of the 7 best running backs in Eagles history.
I considered all Eagles running backs. These next six got consideration, but fell short:
Keith Byars
Billy Ray Barnes
Tom Woodeshick
Clarence Peaks
Herschel Walker
Tom Sullivan
My seven finalists came down to:
Steve Van Buren
Timmy Brown
Wilbert Montgomery
Ricky Watters
Duce Staley
Brian Westbrook
LeSean McCoy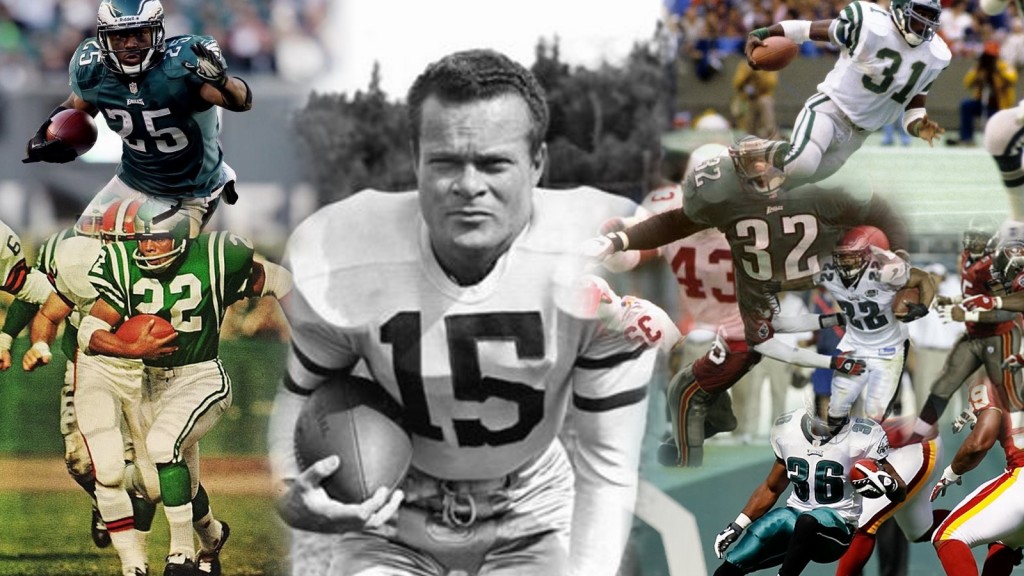 SIX CATEGORIES
Let's take a quick walk through my six categories.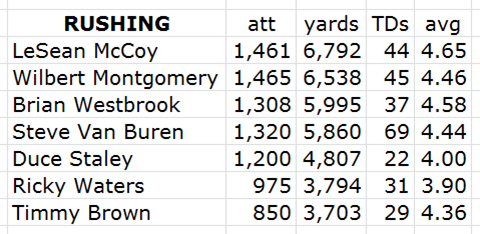 Shady McCoy topped the list with 6,792 yards.
Shady (1,461) and Wilbert Montgomery (1,465) had the most attempts.
Steve Van Buren scored the  most TDs with 69.
Shady McCoy and Brian Westbrook both averaged 4.6 yards per carry. Extending the decimals to two places gave Shady the edge at 4.65 to 4.58 yards per carry.

Brian Westbrook led all backs in three receiving categories:
Receptions with 426.
Yards gained with 3,790 yards.
TDs with 29.
No one else was within 126 catches of Westbrook's 426 catches. But Timmy Brown came close in TDs – 29 to 26 – and was also second in total yards gained – 3,790 to 3,346.
Timmy Brown led in yards/catch with 14.5 and Steve Van Buren was second at 11.6. No one else hit 10.

Only three of my seven running backs ever ran back a punt with the Eagles:
Timmy Brown returned the most punts – 55 – for the most yards – 514 – and scored one TD.
Brian Westbrook returned 39 punts for 498 yards and two TDs.
Steve Van Buren returned 34 punts for 473 yards and two TDs.
The other four running backs in question never returned a punt with the Eagles.
Steve Van Buren led with 13.9 yards/return – better than Westbrook's 12.8 and Timmy Brown's 9.3 yards/return.

Only five of my seven running backs ever ran back a kickoff with the Eagles:
Timmy Brown returned a whopping 169 kickoff returns for an equally whopping 4,483 .
Three returned kickoffs for touchdowns:
Timmy Brown 5
Steve Van Buren 3
Wilbert Montgomery 1
Steve Van Buren edged Timmy Brown by 26.7 to 26.5 yards/return.
Neither Shady McCoy nor Ricky Watters returned any kickoffs for the Eagles.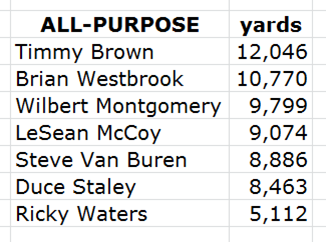 Timmy Brown led the field in all purpose yards with 12,046 – which was 1,276 more than Brian Westbrook (10,770) and 3,160 more than Steve Van Buren (8,886).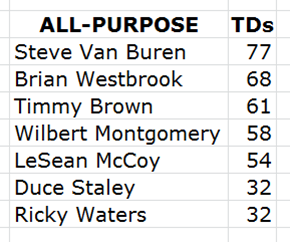 Steve Van Buren scored 76 all-purpose TDs:
8 more than Brian Westbrook (68)
15 more than Timmy Brown (61)
22 more than Shady McCoy (54)
Using a combination of all-purpose yards and all-purpose TDs as my prime tool, I ranked my seven best Eagles running backs like so:
Steve Van Buren
Brian Westbrook
Timmy Brown
Wilbert Montgomery
LeSean McCoy
Duce Staley
Ricky Watters

---
In addition to being the official Eagles Outsider for BlameMyFather.com, Barry Bowe is also the author of:
Soon-to-be-published sexy, police procedural Caribbean Queen
Soon-to-be-published novel Stosh Wadzinski
Soon-to-be-published novel Polish Widow