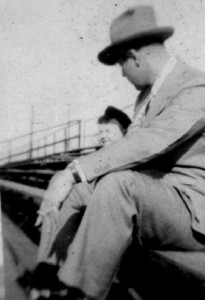 World War II
This is about my father Ed Bowe ─ and me Barry Bowe.
To set the stage, the year was 1946 and the country was only a year removed from the end of World War II. My father spent the first two years of my life assigned to a bomber squadron with the Army Air Force that was stationed in France. Still alive and home at last, he made adjustments back to civilian life and we developed a very special father-and-son relationship ─ to make up for the time we lost.
But he came home to find himself an unemployed school teacher with a wife and child to support. With little opportunity for employment in the area, he needed to seek employment elsewhere.
To do so, he relocated from his hometown of Nanticoke to Collingdale, 100 or so miles to the south, in the suburbs of Philadelphia, where he found a job teaching school. He rented a room in a boarding house for the first year and commuted back and forth on weekends to spend time with me and my mom. The second year, he was able to buy a home and we moved.
Locker Rooms, Football Fields & Basketball Courts
Soon thereafter, he was appointed the school's athletic director – and just that quickly – locker rooms became my home away from home.
Players were walking around in jockstraps and putting on their uniforms. Coaches were giving pep talks. Players were going out onto the field or onto the court, and I was watching the games from a seat on the bench.
By the age of ten, I was running water buckets onto the football field during time outs, cleaning mud out of cleats with a tongue depressor, and sticking smelling salts under players' noses. I got to observe the players up close in the midst of battle and saw the dirt and the blood and the bruises on their sweaty faces. Like a sponge, I absorbed everything the players said and everything they did.
During basketball games, I stood under the basket during warm-ups and tossed the balls back onto the court so players could keep shooting. I handed out towels during timeouts and listened to the coach while he gave the players their instructions. I folded the players' jackets when they ran onto the court and handed the jackets back to them when they were replaced by substitutes.
It was a great introduction to the world of sports and I blame my father for getting me hooked.
(The picture above is my dad and I in the stands at Collingdale High at what could've been my first football game.)
Love Sports
Between you and me, I love sports and love to write about sports. Even more than that, I love to have people read what I write.
Being a sports writer at The Daily News of the Virgin Islands was a dream job because the island of St. Croix is like a small town – even though 50,000 people live there. Just walking around the town of Christiansted put me in direct contact with my readers on a daily basis and they were always giving me feedback. If the readers liked what they read, they told me so – and if the readers didn't like what they read, they told me that too in no uncertain terms.
One Man's Opinion
As an opinionated writer, I expect criticism – and accept it. At Blame My Father, I'm trying to build a base of regular readers. So it warmed me through when I got the following feedback from a reader.

I don't know Sunset Shazz, but I appreciated the kind words so much so that I incorporated "idiosyncratic voice in the Eagles blogosphere" in the description of Blame My Father.
Thanks to Sunset Shazz.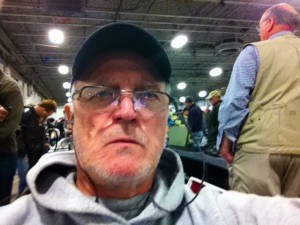 Truth, Justice, and American Way
Yes, I stole the line from the Superman TV series back during the 1950s, but Truth, Justice, and the American Way is indeed what I stand for.
I became a writer at the age of  forty-five.
After being fired from a lucrative sales management position in Philadelphia in 1987, I moved to St. Croix, vowing to never again work for a corporate entity and to learn the craft of writing.
I taught algebra, geometry, and trigonometry at the Country Day School by day and worked as a bartender by night to make ends meet while taking correspondence courses whenever I found time. I talked my way into a job as a sports writer with the territory's Daily News and became the first sports writer to put the name of future NBA star Tim Duncan on the sports page – same distinction for the name of the NBA's Raja Bell.
I broke my cherry as a freelance writer with the detective fiction piece "A Taste for Revenge" in the men's magazine Cavalier.
I made daily commutes by air from St. Croix to St. Thomas to attend a screenwriting workshop conducted by Hollywood's Jurgen Wolff. Advised that I could make it in Hollywood, I quit my jobs and moved to Venice Beach, California. I wrote a TV pilot, but the production company ran out of funds. Unemployed, I returned to the islands and became a full-time freelancer. I soon found a niche with Official Detective magazines and wrote more than 100 true murder stories.
I returned to the States to pitch the concept for my first book – Born to Be Wild – to Connie Clausen, a literary agent in Manhattan. She liked me, liked the idea, and auctioned the book to nine publishers. Warner Books made a peremptory bid and the deal was done.
Born to Be Wild was originally published by Warner Books in 1994 and consisted of 80,000 words.
After I finished writing Born to Be Wild, I took time off to attend film school at the New York Film Academy. Back then, the school was housed in Robert De Niro's Tribeca Building in the Village. To set the time frame, this coincided with the release of Bronx Tale.
Born to Be Wild became a Main Selection of Doubleday's Book of the Month Club and was translated into German under the title: Der Wilde. Twenty years later, in 2014, I restored lost episodes to Born to Be Wild, beefed it up to 124,600 words, and republished it.
During 2014, I also wrote my first sports books – 1964 – The Year the Phillies Blew the Pennant and 12 Best Eagles QBs. My first three works of fiction will be published in 2015:
Caribbean Queen
Stosh Wadzinski
Polish Widow
Archives
pdf version for your PC