Wednesday – April 15th
Jim Bunning (0-0) making his much-anticipated first start in a Phillies uniform versus Tracy Stallard (0-0) for the Mets.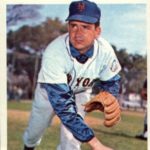 Tracy Stallard forever remains the answer to the trivia question: Who gave up Roger Maris' 61st home run? (See header photo above. Maris starting to round the bases after hitting #61. Stallard on the mound.)
Ironically, it was the only hit Stallard ever surrendered to Maris in seven lifetime at-bats.
Play Ball
√ Jim Bunning and Tracy Stallard put up zeroes through the first 2½ innings. Then the Phillies came to bat in the bottom of the third.
Bobby Wine led off with a single.
After Stallard struck out Jim Bunning for the first out, he got Tony Taylor to hit a slow roller to short. Al Moran threw Taylor out at first for the second out. Wine advancing to second.
Richie Allen singled Wine home to make it 1-0.
No more scoring until the top of the fifth when:
Amado Samuel led off with a single.
Al Moran hit a sharp line drive back to the mound. Bunning gloved it and turned it into a double play.
With the pitcher coming to the plate, it looked like Bunning was out of the inning. But Stallard doubled.
Bunning walked Ed Kranepool to put runners on first and second.
Tim Harkness singled to tie the game at 1-1.
The score remained tied going into the bottom of the eighth:
Bobby Wine led off with a double.
Jim Bunning tried to sacrifice, but failed for the first out.
Tony Taylor flew out for the second out.
Richie Allen hit a ground ball to first that should've ended the inning. But Kranepool booted it for an error. Wine advancing to third.
Tony Gonzalez hit a three-run homer (#1) to put the Phillies ahead 4-1.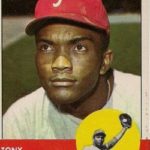 Tony Gonzalez – A native of Cuba, he was acquired in a trade-deadline deal in 1960 with the Cincinnati Reds. He and outfielder Lee Walls came to the Phillies in exchange for outfielders Harry Anderson and Wally Post, plus left-handed pitcher Fred Hopke, who never made it to the majors.
Gonzalez was a better-than-average fielder with an average but accurate arm. A left-handed batter, he was a slashing hitter. He had a good year in 1963. Batting .272 with 36 doubles, 12 triples, and four home runs.
Gene Mauch made two defensive changes in the top of the ninth:
Ruben Amaro replaced Roy Sievers at first.
Danny Cater replaced Wes Covington in left.
Bunning (1-0) struck out the side to pick up his first win in a Phillies uniform. Tracy Stallard (0-1) took the loss.
Around the League
The Giants beat the Braves 10-8 to tie pthem atop the standings with the Phillies. Both at 2-0.