The series resumed in Cincinnati on Thursday with Dennis Bennett (1-1) on the mound versus Joe Nuxhall (1-1).
---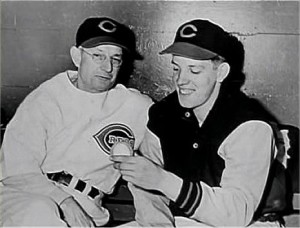 Some 20 years earlier, on June 10, 1944, with his Reds getting blown out 13-0 by the St. Louis Cardinals after eight innings, manager Bill McKechnie brought in a rookie pitcher for mop-up duty in the top of the ninth. The rookie's name was Joe Nuxhall ─ and baseball history was about to be made.
After getting the first batter to ground out to short, Nuxhall walked pitcher Mort Cooper.
After getting the second out on a pop to short, Nuxhall wild-pitched Cooper to second. He then walked third-baseman Debs Garms to put runners on first and second with two outs.
Stan Musial rapped a sharp single to right. The runners could only advance one base. So the bases were loaded with two outs.
Nuxhall then lost all semblance of control by walking first-baseman Ray Sanders, catcher Walker Cooper, and left-fielder Danny Litwhiler to force in three runs and make it 16-0 Cards.
Second-baseman Emil Verban hit a two-run single to make it 18-0 Cards.
McKechnie finally showed mercy by removing the rookie.
By then, Nuxhall had given up five runs on two hits and five walks in his major league debut. What made this outing historical was the fact that Joe Nuxhall was only 15 years old ─ making him the youngest player to ever appear in a major league game.
Two weeks earlier, Nuxhall was a ninth-grader playing high-school basketball in nearby Hamilton, Ohio.
How did this come about?
From 1942 to 1945, the U.S. was engaged in World War II and many big-league players were serving in the armed forces. Ergo, there was a player shortage as the war waged on.
Big-league scouts for the Reds were scouring the boondocks for prospects in 1943 and heard about Orville Nuxhall, who was pitching the lights out in a semi-pro league in Hamilton. The reason Orville wasn't off fighting in WW II was because he was the father of five children. That was also the reason why Orville turned down an offer to play for the Reds ─ they weren't offering him enough money to support his family.
The scouts then turned their attention to Orville's son Joe, who was 14 at that time. The 6-2 lefthander had a lively fastball, but he was wild.
The scouts waited and watched him develop for a full year. But as soon as Joe Nuxhall's high-school basketball season was over in 1944, the Reds signed him to a big-league baseball contract.
Nuxhall remembers his first game like so:
"I was pitching against seventh-, eighth-, and ninth-graders – kids thirteen and fourteen years old. All of a sudden I look up and there's Stan Musial in the batter's box. It was a scary situation."
After that initial outing, Nuxhall went down to the minors and spent five years getting back to the majors.
He made it back in 1952 and pitched in the big leagues for 16 seasons. He turned into a better-than-average pitcher with a lifetime record of 135-117.
---
Now back to the Phillies versus Reds on April 30.
• Tony Taylor led off the ballgame with a single, and Johnny Callison walked to put runners on first and second. Richie Allen doubled home Taylor to make it 1-0 Phillies – with Callison moving to third. Roy Sievers walked to load the bases. Nuxhall then hit Tony Gonzalez to force home a run and it was 2-0 Phillies.
• In the Reds third, Pete Rose led off with a double, and advanced to third on a wild pitch. One out later, Rose scored on a ground out to cut the lead to 2-1.
The game moved through the bottom of the eight with no change in score.
• In the Phillies ninth, Danny Cater led off with a double. He moved to third on an infield single by Gus Triandos, and scored on a sacrifice fly by Bobby Wine to end the day's scoring at 3-1 Phillies.
Dennis Bennett (2-1) registered his second complete game of the season in picking up the win. Joe Nuxhall (1-2) took the loss.
That was three straight wins for the Phils, and 9-of-11 to start the season.
Since the Giants were rained out in Chicago, the Phillies ended the month of April in first place – one game ahead of the Giants.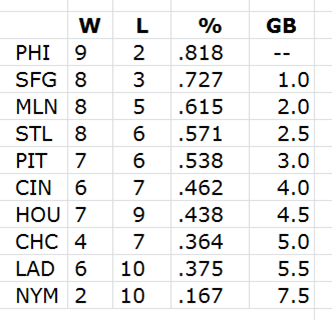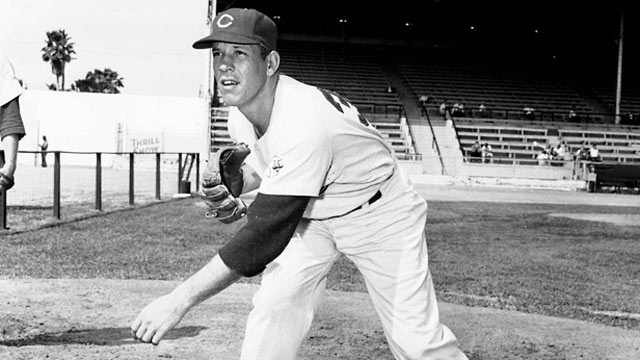 Barry Bowe is the author of Born to Be Wild, 1964 – The Year the Phillies Blew the Pennant, and 12 Best Eagles QBs.