"And they're off" will come the call around 1:20 p.m. Wednesday afternoon when five four-year-old fillies and mares break from the gate in the first race of the Spring/Summer Meet at Belmont Park.
And BlameMyFather has partnered with TipsOnHorses, Brisnet, and TwinSpires to create a seamless experience for aficionados of thoroughbred horse racing everywhere.
TipsOnHorses will deliver free tips for Belmont Park, Saratoga, and Aqueduct. Yes, that's right – free tips for all three NYRA (New York Racing Association) racetracks for as long as you want. It's as easy as 1-2-3.
(1) Subscribe to TipsOnHorses at the bottom of this page.
(2) Receive your free tips for the NYRA tracks in your inbox the night before each racing date.
(3) Continue to receive your free tips for as you maintain your subscription to TipsOnHorses.
Okay, so that's how you get your free tips.
Next, TwinSpires provides the best online wagering experience in horse racing. If you're wondering how to place bets, for my money, TwinSpires is the best source. You can not only place your bets there, but you can watch all the races on your computer or smart phone. Plus, new members get a $100 bonus – CLICK HERE.
And you get free PPDs from Brisnet once you become a member of TwinSpires – eliminating the expense of purchasing them.
---
On March 2, 2010, after experimenting with dozens of handicapping systems that I both purchased and created on my own, I tried out yet a new one. The shakedown cruise took place that afternoon when my son and I Ed went to the Turf Club in Concordville, Pa.
We were playing Philly Park and Beulah Park.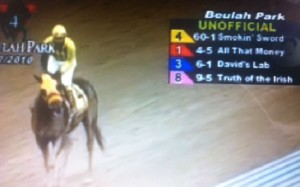 I don't remember any of the races until Race 4 at Beulah. But that's a race I'll never forget – and it convinced me that I'd figured out a great method of picking longshots. My top tip was #4 Smokin' Sword – and Smokin' Sword went off at 60/1.
My second tip was the odds-on favorite. Since my system was brand new, we hedged our bets by playing the top two picks to win, boxing then in the exacta, and wheeling them first and second with the rest of the field in the trifecta.
Watch the video of that race below.
My son and I hit the $127.40 Win – $217.00 Exacta – and $1,215.20 Trifecta – and I've been using my proprietary methodology ever since. That's how I'll be picking your free tips at the NYRA tracks.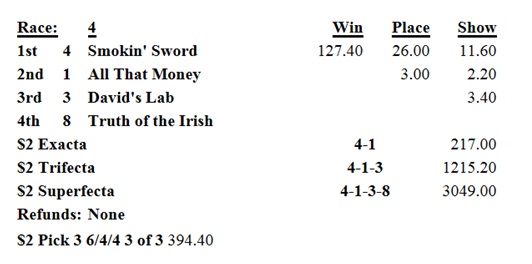 Why am I giving away free tips?
Am I a philanthropist? A wealthy benefactor?
Nope – neither one of those.
I'm an honest guy trying to make an honest buck by selling tips on horses. But before you get, you must give. So I'm willing to give away free tips Belmont, Saratoga, and Aqueduct because the NYRA circuit runs year round.
Those tips will always be free as long as you continue to subscribe to TipsOnHorses. But I will also be offering tips on horses – for a fee – at other race tracks. The fee will be modest and I'll be starting with three tracks:
• Parx Racing – which, for the most part, runs year round, four days per week, from Saturday thru Tuesday.
• Delaware Park – which opens on May 16.
• Monmouth Park – which begins on May 9.
Try Belmont Park for free. If you like the results, add on some of the other tracks. Sign up below for your free tips on horses