2 – Bert Bell
Bert Bell came from a well-to-do Main Line family.
He captained his high school football, basketball, and baseball teams; and he played football at Penn. In fact, he quarterbacked the Quakers to an appearance in the 1917 Rose Bowl in Pasadena ─ although back then "The Granddaddy" of all bowl games was known as the Tournament East-West Game.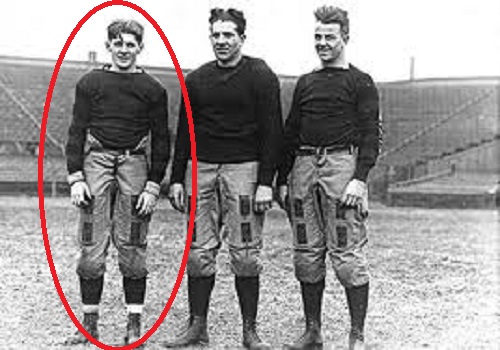 The Penn Quakers lost that game 14-0 to the Oregon Webfoots.
World War I
In April of 1917, the United States declared war on Germany and entered World War I in Europe. Bert Bell interrupted his schooling at Penn to serve with an Army M.A.S.H. Unit in France.
After serving in the Army for one year, he was discharged in 1918 and returned to Penn. He played for another season, but his aversion to attending classes led to his dropping out of college without earning a degree.
Black Sox Scandal
In 1920, Bert Bell founded a football team in Chicago called the "Stanley Professionals." But the notorious Black Sox Scandal rocked the professional sports-world and the negative publicity surrounding the scandal forced him to disband the team before it played a game.
Bell returned to Philadelphia and became an assistant coach at Penn from 1920 until 1928. He worked under head coach John Heisman ─ the namesake of the Heisman Trophy.
Known as a socializer, Bert Bell frequented the Saratoga Race Course in New York State during those summers and struck up friendships with Tim Mara, Art Rooney, and George Preston Marshall ─ all of whom would one day become owners of NFL teams:
Mara with the New York Giants.
Rooney with the Pittsburgh Pirates ─ eventually renamed the Steelers.
Marshall with the Boston Braves ─ eventually renamed the Boston Redskins and subsequently moved to Washington.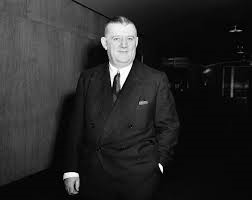 Going back to 1928 ─ Bert Bell got into a snit with a fellow-assistant coach at Penn. That coach was his life-long friend and former teammate Lud Wray.
As a result of that disagreement, Bell resigned his position at Penn to become a stock broker. But his timing was horrific. In 1929, Wall Street crashed and Bert Bell lost $50,000 ─ the equivalent of nearly $700,000 by 2015 standards.
His wealthy father bailed him out of his financial difficulties and gave him a job at the Ritz-Carlton ─ a luxury hotel his father owned in Center City. But Bert Bell's heart remained elsewhere. To him, working for his father was moonlighting until he could find his niche in the world of football.
At the beginning of the 1930 season, he got a job as an assistant coach at Temple and he remained in that capacity for two years.
In 1932, his buddy George Preston Marshall approached him and tried to convince him to purchase an NFL franchise for Philadelphia. The Frankford Yellow Jackets had gone belly up a year earlier and Philadelphia had been devoid of an NFL team ever since.
But Bell scoffed at the notion for two reasons:
Minimal chances of turning a profit.
His flashy lifestyle had drained his finances.
Bell planned to remain at Temple ─ but fate dealt him another cruel blow.
The legendary Pop Warner resigned his head-coaching post at Stanford ─ where he'd won three Rose Bowls, including the classic victory in 1925 over Notre Dame and the fabled Four Horsemen ─ to take over head-coaching duties at Temple.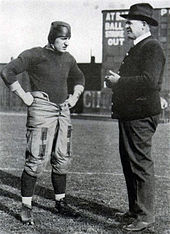 Pop Warner ─ pictured above ─ cleaned house at Temple and brought in his own staff of assistant coaches.
Bert Bell was out at Temple ─ and out of football.
Suddenly the notion of owning his own NFL franchise in Philadelphia seemed attractive to Bell. But a significant hurdle stood in his way ─ he was broke.
Gatsby & Daisy
In addition to the NFL franchise fee of $2,500, an additional $11,000 in debt-service incurred by the Yellow Jackets had to be paid to the league before the deal could be consummated.
Bert Bell patched up his differences with Lud Wray and convinced Wray to become his equal partner. Once Wray put up his half, Bert Bell needed to raise his half.
At the time, Bell had been keeping company with Frances Upton for over a year. Frances Upton was a Broadway actress, a comedienne, and a star attraction in the Ziegfeld Follies.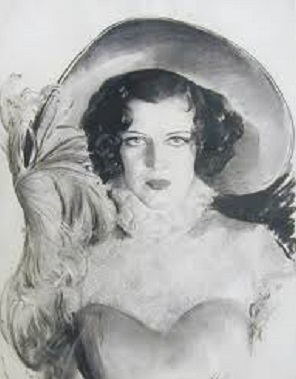 in the gossip sheets, their relationship was described as being similar to the fictional relationship between the Great Gatsby and Daisy Buchanan. And his lifestyle was described as "gallivanting, carousing, hobnobbing, gambling, drinking, and cruising in flashy cars."
To meet his end of the deal, Bell convinced Frances Upton to loan him the money he needed.
(By the way, Bert Bell and Frances Upton eloped a year later and would have three children together. One son, Upton Bell, later served as the GM of both the Boston Patriots and the Cleveland Browns.)
---
This is Chapter 2 of a 10-chapter, 27-page eBook entitled Birth of the Birds. It is both informative and interesting and can be read in one sitting.
One chapter will be published every Wednesday right here on BlameMyFather.com until all ten chapters are published. Feel free to:
Peruse, read, and copy the chapters to your computer as they become available.
Buy the paperback at Amazon for $7.77.
Save a buck by buying the paperback at my personal CreateSpace website for $6.77.
Buy the Kindle edition at Amazon for $1.99.
Get a FREE PDF copy for use on your PC, laptop, or most home devices by filling out the Birth of the Birds form found in the margin on the right side and getting a download delivered to your inbox less than a minute later.
If you encounter any problems, shoot me an email at barrybowe44@gmail.com.
---
In addition to being the official Eagles Outsider for BlameMyFather.com, Barry Bowe is also the author of:
Soon-to-be-published sexy, police procedural Caribbean Queen
Soon-to-be-published novel Stosh Wadzinski
Soon-to-be-published novel Polish Widow