From the Desk of Eagles Outsider Barry Bowe
When ? Who? How?
Hey Eagles fans, do you know when the Eagles came into the NFL? Do you know who gave birth to the team? Do you know how it happened?
If you're an Eagles fan, you'll learn the when, who, and how in my new book Birth of the Birds. And at the bottom of this page, you'll also find out how you can get a PDF copy of Birth of the Birds for FREE.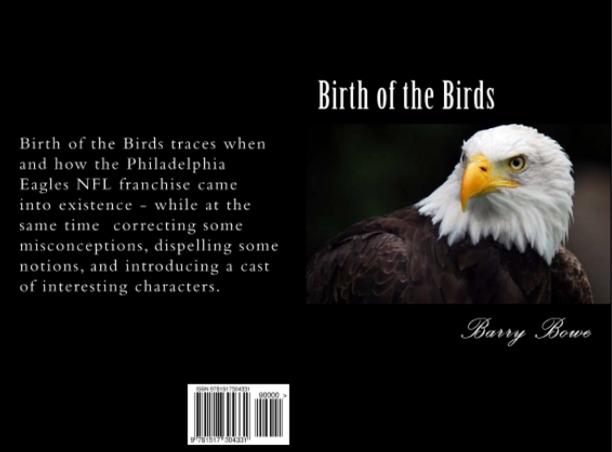 Like it says on the back cover:
"Birth of the Birds traces when and how the Philadelphia Eagles NFL franchise came into existence – while at the same time correcting some misconceptions, dispelling some notions, and introducing a cast of interesting characters."
Between the covers, you'll find out:
The names of the two Main-Liners who originally purchased the franchise.
How much they paid.
That a Ziegfeld Follies starlet helped bankroll the purchase.
That the fledgling venture turned into a money pit that led to a public auction of the franchise.
How a bet at the Saratoga Race Track financed the purchase of the Pittsburgh Steelers.
Where a millionaire playboy from New York City fits into the mix.
The scheme that united the Eagles owner and the Steelers owner in a plot to sell the Eagles to the millionaire playboy, transform the Eagles into the Pennsylvania Keystoners, and split the team's home games between Philadelphia and Pittsburgh.
How an alliance between those three men led to the formation of the Steagles during World War II.
How the retirement of one of Notre Dame's fabled Four Horsemen led to an Eagles owner becoming the NFL commissioner.
The legacy left behind by the  millionaire playboy who took over Eagles ownership.
Big Information in a Small Package
It sounds like a lot of information – and it is. But it's packed into less than 30 pages and can easily be consumed at one sitting
If you're an Eagles fan, I believe you'll find Birth of the Birds both informative and interesting.
Four Ways
There are four ways you can obtain the book:
The paperback is available at Amazon for $7.77.
Save a dollar on the paperback at my personal CreateSpace website and get it for $6.77 by typing 6L9BARLP at checkout.
The Kindle version is available right now at Amazon for $1.99.
The PDF version for use on your PC or laptop is available for no charge – in other words you can get if for FREE. All you have to do is complete the form below or in the sidebar on the right.
Just enter your email and the PDF version will be delivered into your inbox – in less than a minute.
I found the research interesting. Hope you find the reading both informative and interesting.


In addition to being an official Eagles Outsider, Barry Bowe is also the author of:
Soon-to-be-published sexy, police procedural Caribbean Queen
Soon-to-be-published novel Stosh Wadzinski
Soon-to-be-published novel Polish Widow