It's going to be nigh onto impossible to make any sizeable money at Saturday's 140th running of the Preakness Stakes at Pimlico Race Course in Baltimore.
Why?
To begin with, there are only eight horses running.
And of those eight horses, only three look like they have a chance to win – American Pharoah, Dortmund, and Firing Line.
Kentucky Derby winner American Pharoah has been installed as the 4/5 favorite and will almost definitely go off at less than even money. From a betting perspective that means you would have to bet more than $100 on American Pharoah's nose to win $100.
Making such a low risk-to-reward bet makes no sense unless you're just looking for a winning Preakness ticket to frame and hang on a wall as a memento.
I have a buddy named John who's a professional gambler on the racetrack circuit and he'll definitely be betting American Pharoah – but he won't be betting to win. He'll be betting American Pharoah to Show – to come in third if you're not familiar with horseracing lingo. That's right, my buddy John will be betting American Pharoah to Show and he'll most-likely make a profit of $500 on the race.
How's that possible?
It's possible because my buddy John will be betting $10,000 on American Pharoah to Show – talk about an absurd risk-to-reward ratio.
Who in their right mind would bet $10,000 on the possibility of making $500?
Not me – that's for sure – and most likely not you either. But my buddy John and wise-guys like him will make that bet every chance they get. Check the Show Pool after the race and you'll be shocked to see how much will be wagered on American Pharoah to Show. That's my buddy John and wise-guys like him placing exorbitant Show bets.
At such heavy odds, American Pharoah will probably pay something like $2.40 to Win, $2.20 to Place, and $2.10 to Show. Do the math.
A bet of $10,000 to win would get my buddy John a profit of around $2,000 – but there's the risk that American Pharoah won't win. On the other hand, there's very little risk that American Pharoah won't finish second or at the worst third – especially in a field of eight horses.
So my buddy John will plunk down $10,000 and sweat bullets for the two minutes or so it takes the race to run. In the end, he'll most likely pocket the $500 profit because the odds are slim that American Pharoah will run out of the money.
In horseracing parlance, races like this are called "Bridge Jumpers" because the wise-guys who make such substantial bets and don't win want to jump off a bridge when they lose. But I love Bridge Jumper races because they provide one of the best risk-to-reward opportunities in horseracing.
I'm going to bet every horse in the race to Show and then hope that American Pharoah runs fourth or worse. If that happens – nothing personal to my buddy John – but I hope he'll be losing $10,000 while I'm making $100 or so.
How?
Like this. Assuming $2 bets, I place eight Show bets – one on each horse in the race – for a total bet of $16. I'm going to cash three winning Show tickets no matter what – one for the horse that Wins, one for the horse that Places, and one for the horse that Shows.
My worst case scenario is that American Pharoah does finish first, second, or third. In that case, my three tickets will add up to around $8 and I'll lose $10 on the race. But if American Pharoah runs out of the money, that huge Show pool will be distributed amongst the three horses that finish in the money. Once again, I'd be cashing three tickets – but these three tickets would be sizeable and could add up to $100 or more.
Let's look at the two scenarios I've just discussed.
My buddy John will be betting $10,000 with the hopes of making a profit of $500 – and he'll be sweating his ass off the whole time. If he loses, it'll take him twenty winning bets of $10,000 each to recoup the loss. Talk about sweating his ass off.
Myself, I'll be betting $16 with the hopes of making a profit of $100 or so – but I'll be relaxed and enjoying every second of the race. If American Pharoah runs in the money, I'll lose around $10 – which sure beats the hell out of losing $10,000.
American Pharoah will probably run in the money, but I don't mind risking $10 on the chance of winning $100. By the way, my buddy John makes better than $100,000 a year making such bets – but I have seen him lose. In fact, I saw him lose twice – and it's not pretty when it happens.
Cashing in on Bridge Jumpers doesn't happen every day, but it does happen. I've cashed several Bridge Jumpers over the years. I even cashed one that paid me almost $300. Here's hoping I catch another one in the Preakness on Saturday.
Saturday's first post at Pimlico is scheduled for 10:30 a.m. There are 14 races on the card. The Preakness – the Run for the Black-Eyed Susans – is Race 13 with a scheduled post of 6:18 p.m. As mentioned, there are eight horses running and American Pharoah is starting from the first post position. If the race runs according to script, American Pharoah, Dortmund, Bodhisattva, and Divining Rod could wind up locked in a speed duel with Firing Line drafting the pace. Whichever horse can outlast the others will win.
My money will be on Dortmund to win – followed by American Pharoah, Firing Line, and Bodhisattva. But, like I said, I'm betting the Bridge Jumper and hoping American Pharoah runs out of the money.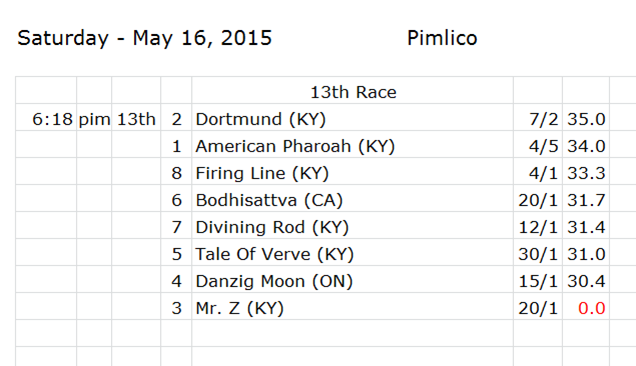 Good luck to you.
Barry Bowe is the author of Born to Be Wild, 1964 – The Year the Phillies Blew the Pennant, and 12 Best Eagles QBs.