Monday, I wrote about Rob Charry's being so crazy about Cole Hamels that he ranked him as one of the Top-10 all-time Phillies.
And there was sufficient feedback to warrant this piece.
For starters. WIP's Joe Giglio agrees with Rob.
Eliminating Position Players
To begin with, I'm going to eliminate position players from today's discussion because there are more than ten who outrank Cole Hamels on my all-time list by a lot. So let's just focus on pitchers.
Right now, I've got 10 pitchers rated above Hamels:
Robin Roberts
Steve Carlton
Grover Cleveland Alexander
Curt Schilling
Jim Bunning
Jim Konstanty
Chris Short
Curt Simmons
Tug McGraw
Roy Halladay
Cole Hamels
Let's start with Cole Hamels.
Cole Hamels
The no-hitter last Saturday brought Cole Hamel's record for this season to 6-7 with a 3.64 ERA. Thanks to that no-hitter, that gives him exactly one complete game and one shutout on the season. The fact that he's under .500 can't be taken at face value because the Phillies are under .500.
However, while the 1972 Phillies were finishing the season at 59-97 – well under .500 – Steve Carlton went 27-10 with a 1.97 ERA, 30 complete games, and eight shutouts.
At this point, you should be doing a double-take at those 30 complete games and eight shutouts in one season – especially since Cole Hamels has exactly 14 complete games and seven shutouts throughout his 10 seasons with the Phillies.
Steve Carlton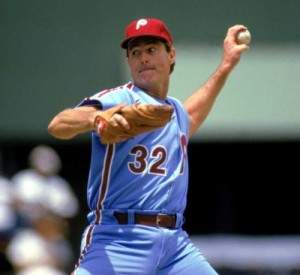 So Steve Carlton is a no-brainer based on that one season alone. But during his 15 years with the Phillies, Carlton went 241-161 with a 3.09 ERA, 185 complete games, and 39 shutouts. He won four Cy Youngs and was elected into the Hall of Fame.
Speaking of the Hall of Fame, four more Phillies pitchers – Robin Roberts, Grover Cleveland Alexander, Jim Bunning, and Eppa Rixey – are also Hall of Famers. But I placed Cole Hamels ahead of Eppa Rixey because Rixey was only 87-103 with the Phillies. Rixey was 179-148 with the Reds and 266-251 lifetime.
But I rated the other four Hall of Famers way ahead of Cole Hamels.
Robin Roberts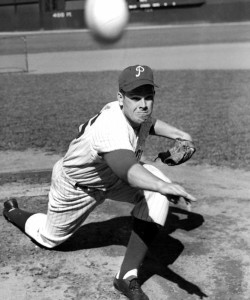 Robin Roberts pitched for the Phillies from 1948 thru 1961. He was a 20-game winner for six consecutive seasons – the high point a record of 28-7 in 1952 with a 2.59 ERA and 30 complete games. By the way, Cole Hamels has never won 20 games in a season – and most likely never will.
When Robert pitched, starters were often used in relief in between starts. In that capacity, Roberts saved 24 games.
Roberts, a seven-time All-Star, went 234-199 with a 3.46 ERA, 272 complete games, and 35 shutouts in his 14 seasons with the Phils. As previously noted, he's a Hall of Famer.
Grover Cleveland Alexander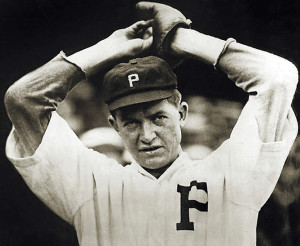 "Old Pete" Alexander was 190-91 with a 2.18 ERA, 219 complete games and 61 shutouts in his eight seasons with the Phillies. A Hall of Famer, he also spent nine years with the Cubs – 128-83 – and four season with the Cardinals – 55-34 – and finished with 373 career victories, 436 complete games and 90 shutouts. And he saved 15 games.
Jim Bunning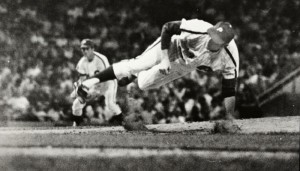 After six All-Star seasons and nine years total with the Detroit Tigers, Jim Bunning was traded to Phillies along with catcher Gus Triandos, during the winter of 1963, in exchange for centerfielder Don Demeter and pitcher Jack Hamilton.
Bunning then went 89-73 with a 2.93 ERA, 65 complete games, and 23 shutouts during his six seasons in Philly. He was a two-time NL All-Star and will always be remembered for pitching a perfect game against the Mets on Father's Day in 1964. And he saved four games in between starts.
He's a Hall of Famer, he pitched a no-hitter in both leagues, and he served in both the U.S. House of Representatives and Senate representing the state of Kentucky.
Curt Schilling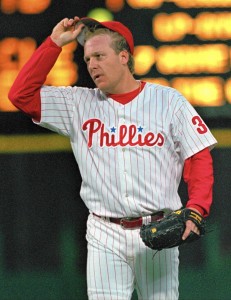 Curt Schilling was 101-78 with a 3.35 ERA, 61 complete games, and 14 shutouts during his nine seasons with the Phillies. He was a clutch pitcher who made the All-Star team three times.
After Schilling left the Phillies, he was on three World Series winners – one with the Arizona Diamonbacks and two with the Boston Red Sox.
His lifetime record is 216-146.
Jim Konstanty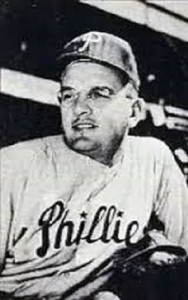 Jim Konstanty is a name that's not on the lips of many current Phillies fans – but he's the only Phillies pitcher to ever be voted as MVP of the National League. That happened during the 1950 Whiz Kids season when Dick Sisler's home run against the Dodgers on the last day of the season sent the Phillies into the World Series to face Joe DiMaggio and the Bronx Bombers.
A relief pitched, Konstanty was pressed into starting the first game of the Series against the Yankees. Konstanty gave up four hits over eight innings – but lost 1-0. The game's lone run scored on a leadoff double – followed by two long fly balls.
During that MVP season, Konstanty made 74 relief appearances, finished 62 games, and saved 22 – all league-leading stats. He compiled a record of 16-7 with a 2.66 ERA and logged 152 innings as a reliever.
He was 51-39 in his seven seasons with the Phillies.
I'll continue to rate him above Cole Hamels until Cole wins the MVP.
Chris Short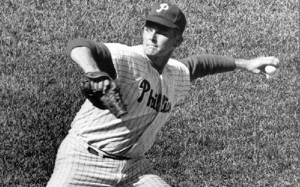 Like Cole Hamels, Chris Short pitched on some bad Phillies teams – the 1964 season being an exception.
Still, he compiled a record of 132-127 with a 3.38 ERA in 14 years in Philly. He was a 20-game winner in 1966 – 20-10 – and a two-time All-Star.
I'd rather have him on the mound than Cole Hamels.
Curt Simmons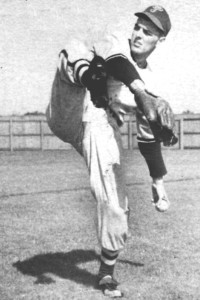 Curt Simmons was 115-110 in 13 seasons with the Phillies. He compiled a 3.66 ERA with 109 complete games and 18 shutouts. His record suffered for two reasons:
He was drafted into the Army during September of the 1950 Whiz Kids run to the World Series. He was 17-8 at the time – but missed his last five starts plus the entire World Series.
On June 5, 1953, he severed several toes on his left foot in a lawn-mower accident at home and had to alter his pitching motion throughout the remainder of his career.
Like Chris Short, I'd rather have Curt Simmons on the mound over Cole Hamels.
Tug McGraw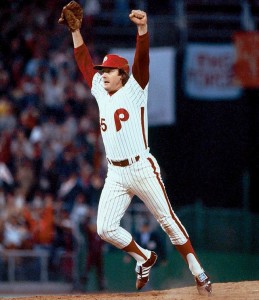 Tug McGraw is a tough one.
To begin with, Tug was a reliever and it's almost impossible to compare his stats with a starter. Next, he came to the Phillies at the age of 30 after nine years with the Mets.
Still, in his ten seasons with the Phils, he made 463 appearances – all but three in relief – and he had a winning record – 49-37 – with a 3.10 ERA and 94 saves. As a reliever, he logged 722 innings with the Phils and got the final out in the 1980 World Series in a classic moment that endures in Phillies' history.
I'll take him over Hamels.
Roy Halladay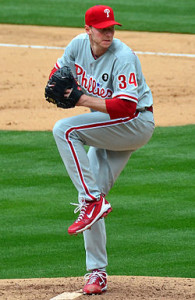 Last for me comes Roy Halladay. Like Jim Bunning and Tug McGraw, Halladay spent most of his career with another team before coming to the Phillies.
He'd already won 148 games in 12 seasons with the Blue Jays by the time he arrived in Philly at the age of 33. Still, in four years with the Phillies, he went 55-29 with a 3.25 ERA, 18 complete games, five shutouts, one perfect game, and one post-season no-hitter.
Halladay won two Cy Youngs – one in each league – and was also a 20-game winner in both leagues.
I'll take Halladay over Hamels every time.
Victim of Circumstance?
Could Hole Hamels be a victim of circumstance?
When I look at his paltry 14 complete games in ten years in the big leagues, I wonder if things would've been different if Cole Hamels pitched in "the old days" when pitchers tried to complete games instead of settling for "quality starts."
But whenever I think about Cole Hamels, I keep going back to Game 3 of the 2009 World Series. After splitting the first two games at Yankee Stadium, the Series moved to Philly. Cole Hamels was on the mound and the Phils parlayed a leadoff homer by Jason Werth in the second inning, with some small-ball, to jump on top 3-0.
In my opinion, that should've been all Cole Hamels needed to take it home from there – but he didn't. He gave up a two-run homer to Alex Rodriguez in the top of the fourth and a three-spot to the Yanks in the top of the fifth to fall behind 5-3.
Instead of pitching his team to a 2-1 advantage in the Series – at home and with two more games coming up at Citizen Bank Park – Cole Hamels coughed up the lead and blew the Series in the process.
Sorry, but I'll never let go of that.
Conflicted About Trading Cole
With the Trade Deadline quickly approaching, I'm also conflicted about whether or not it's wise to trade Cole Hamels.
For quite some time, I've been saying it's in the Phillies best interest to trade him. My reasoning being that be the time the Phillies are ready to contend again, Cole Hamels will be past his prime. But recently, Rickie Ricardo is swaying me.
Rickie points out that Cole Hamels is locked up for the next three seasons at what is now a bargain rate. Unless the Phillies can negotiate a lopsided trade to their benefit, there is no urgency in dealing Cole Hamels right now. With the recent 8-1 resurgence, maybe with a couple of additions, the Phillies are closer than I thought.
If not, Cole Hamels will still have value in an off-season trade.
So I'm conflicting about trading Cole right this minute.
WAR
One thing I'm nit conflicted about is WAR.
Joe Giglo mentioned WAR – a fairly new statistic that stands for "Wins Above Replacement."
So I spent better than two hours doing some research. I've included the WAR stat in the chart below – but put very little stock in it. I'll explain my low opinion of WAR in a separate post.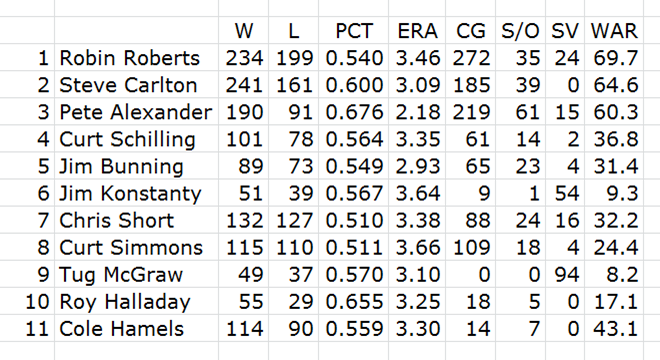 Barry Bowe is the author of:
Soon-to-be-published Caribbean Queen