From the Desk of Eagles Outsider Barry Bowe
A Genius?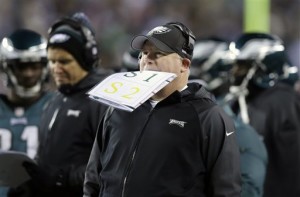 "Chip Kelly's a genius," were the first words out of the mouth of Dave Spadaro last night as he hosted his special two-hour gig on WIP. Dave's voice meant business from the get-go – and he punctuated his opening line by repeating "Genius" with emphasis.
In fact, he called Chip Kelly a genius so many times during the two hours that I lost count. He also complimented Chip up and down for the brilliant decisions he'd made throughout these early stages of free agency and urged Eagles fans to believe in everything Chip was doing.
Since I – like most Eagles fans – consider Dave Spadaro to be a one-sided mouthpiece for the Eagles, none of this came as a surprise. But what did come as a surprise was how good Dave was for the entire two hours.
Foreshadowing
Throughout the six hours preceding the show, Rob Charry and Hollis Thomas, from two to six, and Joe Giglio, from six to eight, hinted that callers were going to skin Dave Spadaro alive. And the first caller tried to do just that – attacking Dave with pent-up hostility and venom and accusing Chip Kelly of lying at his press conference about his involvement in the power struggle that sent Howie Roseman packing to another building on campus.
But Dave handled the hostile caller like he knew what he was doing. He answered and deflected and fired back. He was in complete control, never appeared to be the least bit flustered, and moved on to the next caller unscathed.
No Mouthpiece
Dave's approach caught me off-guard.
He wasn't talking like a mouthpiece for the Eagles. He was giving his opinion about what Chip Kelly and the Eagles were doing – and he sounded just like one of us. The only difference between Dave's opinion, and your opinion, or my opinion, is that he has some knowledge of what's transpiring behind closed doors in the Eagles' inner sanctum – both direct and indirect knowledge.
So he's a few steps ahead of you and me.
Throughout the show, callers asked one question after another.
Q – Did he know Chip was going to make so many dramatic changes?
After the season ended, Chip analyzed his roster and knew he didn't have enough players to make a Super Bowl run. So Chip was planning "to blow things up."
Improving the defense was Chip's number-one priority. The defense:
Was on the field too long last year.
Needed to upgrade the players to force three-and-outs.
Get off the field,
Hand the ball over to the offense in good field position.
The Eagles direly needed to upgrade the secondary.
Q – Did he know Chip was going to trade Shady?
Chip needed to clear cap space to finance the changes that had to be made. Todd Herremans, Trent Cole, and Shady McCoy were logical targets to clear cap space.
And it worked. The Eagles got Kiko Alonso from the Bills for Shady and signed Byron Maxwell away from the Seahawks with the extra cap money – which was a great start toward improving the defense.
Q – Did Chip want to keep Jeremy Maclin?
Yes, Chip wanted to keep Maclin. Dave believes the Eagles met Maclin's asking-price, and further believes Maclin should've signed with the Eagles. But the Chiefs offered more money, and Maclin took the money and ran to Kansas City.
Q – Did he know Chip was going to trade Nick Foles?
Chip wasn't in love with Nick Foles for three reasons:
His wind-up was too long.
His decision-making was too slow.
His accuracy wasn't sharp enough.
But Chip would've kept Foles for another season if he could've found "his" quarterback in this year's college crop, next year's college crop, or on another NFL team's roster.
First, Chip analyzed this year's crop of college quarterbacks. Chip saw Marcus Mariota and Jameis Winston – and no one else. Chip doesn't like Winston and thinks Tampa should opt on Mariota.
Next, Chip looked at the quarterbacks coming out of college next year  – but failed to see anyone he wanted.
Finally, Chip looked at the quarterbacks currently on NFL rosters and he saw no one he liked and wanted.
So Chip decided to move Foles.
Q – Did he have any idea the Eagles would get Sam Bradford?
No, he had no idea Chip coveted Sam Bradford. However, once the deal was made, he found out Chip considered Bradford the only blue-chip prospect available this year or next year.
Chip believes Sam Bradford's skill-set is head and shoulders above Nick Foles' skill-set:
Bradford makes quicker decisions.
Is a more accurate passer.
Absolutely doesn't turn the ball over.
Chip also got positive input from his quarterbacks coach Pat Shurmur – who was the Rams' Offensive Coordinator during Bradford's rookie season in 2010. Bradford won Rookie of the Year honors that season.
Q – What about Frank Gore?
Chip wanted Gore, but Gore took more money to join the Colts.
Q – What about DeMarco Murray?
Like the rest of us, Dave Spadaro never saw it coming – but he believes that Murray is a tremendous addition to the Eagles.
Q – What about Marcus Mariota? Is Chip still trying to maneuver to trade up and get Mariota in this year's draft?
Dave Spadaro answered that question with one word.
"Poppycock."
Chip Kelly was never going to forfeit the multiple picks necessary to get the first pick in this year's draft – and that's where Chip sees Mariota going – to Tampa with the first pick.
Dave gave credit to Ed Marynowitz a few times for working closely with Chip in choreographing all these moves.
Before closing, he boasted that the Eagles were "the" story in the sporting world right now and told listeners to pay attention to what the Eagles were doing.
"Who knows what Chip will do next?"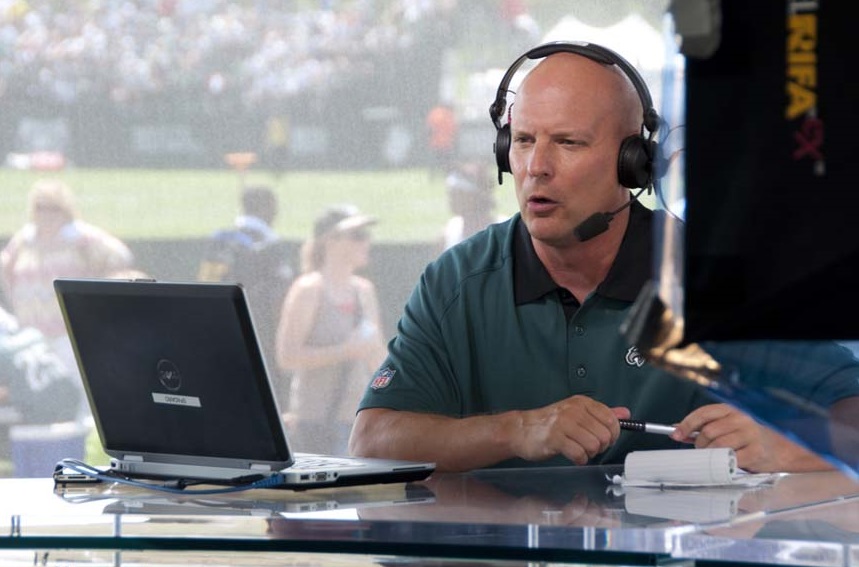 ---
In addition to being an official Eagles Outsider, Barry Bowe is also the author of:
Soon-to-be-published sexy, police procedural Caribbean Queen
Soon-to-be-published novel Stosh Wadzinski
Soon-to-be-published novel Polish Widow