Just like Arnold Schwarzenegger swore so many times, Nick Foles may soon be declaring "I'll be back" with the Eagles.
Although with Arnie, it came out phonetically like so: "All be bock."
But I digress.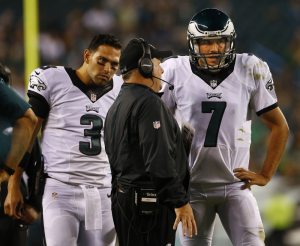 This is a case where two wrongs just might make a right.
Wrong #1 – Chip Kelly traded Foles for an overpaid, broken down, run-of-the-mill quarterback. Plus, the man who sabotaged the Eagles compounded the mistake by throwing in a second-round pick in this year's draft.
Wrong #2 – Many football "experts" in town believe that reacquiring Foles would be a mistake.
As an official Eagles Outsider, I stand apart from these "experts." And I must add that many of these "experts" still want the Eagles to do one of two things:
Place the Franchise Tag on Sam Bradford.
Sign Sam Bradford to a long-term deal.
As for myself, I wouldn't pay Sam Bradford one red cent to play for the Eagles. Oh, yeah, I know:
He hadn't played in nearly two years.
He was recuperating from knee surgeries.
He needed time to become acclimated with his new teammates.
He was really improving as the season went on.
He was playing behind a porous offensive line.
He didn't have any good receivers.
The receivers he did have dropped too many passes.
EXCUSES, EXCUSES, EXCUSES
In fact, excuses define Sam Bradford's career:
25-37-1 as a starter. If you don't have a calculator handy, that's below .500 as a starter.
His TD passes topped out at 21 back in 2012. If you're not looking at a calendar, that's four years ago.
Yes, his completion percentage is 60.1% – but he gains only 6.5 yards/ attempt. That's because he's throwing short passes – many times behind the line of scrimmage.
NICK FOLES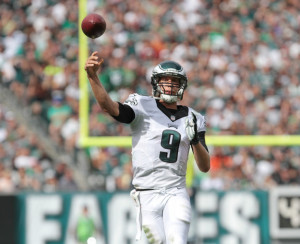 Admittedly, Nick Foles played poorly with the Rams this past season – but he did lead the Rams to wins over both the Seahawks and the Cardinals early in the season.
I recorded every game the Cardinals played and couldn't believe the way he played at times. But nothing can erase the season Nick Foles had with the Eagles in 2013:
8-2-0 as a starter.
27 touchdowns with only 2 interceptions.
Tied an NFL record by throwing for 7 TDs against the Raiders.
10.5 passing yards/attempt.
Leading the Eagles to a touchdown on the last drive against the Saints in the Playoffs and walking off the field with the lead.
6-2-0 as a starter in 2014 before being injured.
Nick Foles will never duplicate that magical 2013 season. But neither will he duplicate the 2015 debacle in St. Louis.
Jeff Fisher doesn't like Nick Foles and he doesn't want Nick Foles. Therefore, Nick Foles is ripe for the taking. He can be had – and he can be had cheap.
Doug Pederson has worked with Foles in the past and he likes Foles.
In my opinion, Doug Pederson, offensive coordinator Frank Reich, and quarterbacks coach John DiFilippo can revitalize Nick Foles and turn him into the franchise quarterback that I believe he is
You may not think so.
But I do – and hope like hell that I get a chance to find out. I won't even say "I told you so" if and when it happens. In any case, he's a much better option than Sam Bradford.
Bring back Nick Foles.
---
In addition to being the official Eagles Outsider for BlameMyFather.com, Barry Bowe is also the author of:
Soon-to-be-published sexy, police procedural Caribbean Queen
Soon-to-be-published novel Stosh Wadzinski
Soon-to-be-published novel Polish Widow