3 – JAMES R. LUDLOW WRAY
Lud Wray grew up in the same Main Line neighborhood as Bert Bell.
They were like the kind of brothers who argued and fought between themselves, but bonded together when outsiders tried to step between them. Their childhood friendship extended all the way into college at Penn, where they were teammates – and way beyond.
Wray, in fact, was a 6-0, 185-pound All-American center on Penn's 1917 Rose Bowl team.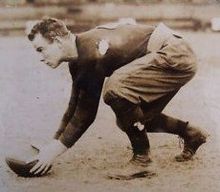 When Bert Bell left school to join the Army and fight in World War I, Lud Wray also left school and went to war with his friend.
After the war ended, he returned to Penn, graduated, and played as a pro and semipro for seven seasons:
Buffalo Niagaras in 1918.
Buffalo Prospects in 1919.
Union Club of Phoenixville in 1920.
Buffalo All-Americans from 1920 to 1921.
Union Quakers of Philadelphia in 1921.
Frankford Yellow Jackets in 1922.
After his playing career ended, Lud Wray turned to coaching. As previously mentioned, he served with Bert Bell as an assistant coach at Penn for eight years.
In 1930 – while Bell was coaching at Temple – Wray became the head coach at Penn. The Quakers went 5-4 under Wray, but he was such a stern taskmaster that his players threatened to quit the following season.
Rather than risk that, the athletic director fired Lud Wray when the season ended.
Wray then served as an assistant at Villanova and Holy Cross.
In 1932, he became the first head coach of the NFL's Boston Braves.
His career coaching record in the NFL was 13-25-3:
4-4-2 with the Boston Braves
9-21-1 with the Philadelphia Eagles
---
This is Chapter 3 of a 10-chapter, 27-page eBook entitled Birth of the Birds. It is both informative and interesting and can be read in one sitting.
One chapter will be published every Wednesday right here on BlameMyFather.com until all ten chapters are published. Feel free to:
Peruse, read, and copy the chapters to your computer as they become available.
Buy the paperback at Amazon for $7.77.
Save a buck by buying the paperback at my personal CreateSpace website for $6.77.
Buy the Kindle edition at Amazon for $1.99.
Get a FREE PDF copy for use on your PC, laptop, or most home devices by filling out the Birth of the Birds form found in the margin on the right side and getting a download delivered to your inbox less than a minute later.
If you encounter any problems, shoot me an email at barrybowe44@gmail.com.
---
In addition to being the official Eagles Outsider for BlameMyFather.com, Barry Bowe is also the author of:
Soon-to-be-published sexy, police procedural Caribbean Queen
Soon-to-be-published novel Stosh Wadzinski
Soon-to-be-published novel Polish Widow