December 24, 1972
I moved to South Florida during that summer of 1972. A fortuitous move since the Dolphins finished 14-0 during the regular season. And now comes the first playoff game. Scheduled for December 24 at the Orange Bowl versus the Cleveland Browns.
Bad News
At work on Thursday comes a message over the radio. The Orange Bowl isn't sold out 72 hours prior to kickoff, so the game's blacked out in Miami.
WTF?
How am I going to see the game?
Good News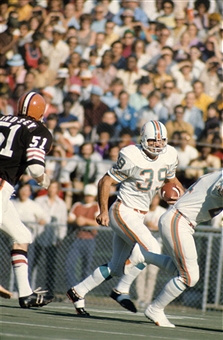 Four of us get together for a quick meeting of the minds and arrive at a quick solution:
Let's rent a plane.
We chip in and rent a four-seat Cessna from Safari Aviation at North Perry Airport in Miramar, and fly to Ft. Myers. Beyond the blackout area.
We radio the tower as we're circling for a landing and mention our intent. In response, the airport sends a baggage cart to meet us. We ride the cart to the airport and watch the game in the bar. A few beers, a cheeseburger, or two, and some fries.
The Dolphins came from behind in the fourth quarter to pull out a 20-14 playoff win. And we fly back to North Perry Airport after the game.
I lived right across the street from the airport. Don't remember how much the Cessna cost to rent – but pretty sure it was under $200. Split four ways, that's about fifty bucks a piece for a once-in-a-lifetime memory.
---
Oh, yeah, I was taking flying lessons at the time and one of my buddies already had his pilot's license.