"For the past two weeks, you've been reading about a bad break . . . Today, I consider myself the luckiest man on the face of the Earth." – Lou Gehrig
How many times have you heard those words repeated?
Especially ". . . the luckiest man on the face of the Earth . . ." part?
To name just two, sitcoms like Seinfeld and Everybody Loves Raymond used it in more than one episode.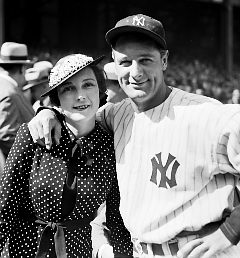 When it comes to baseball, in my opinion, only Abbott and Costello's "Who's on First?" repartee has been as universally repeated as Lou Gehrig's farewell address at Yankee Stadium. There was much more to the speech, but most of the exact verbiage was lost over the years. Gehrig wrote the speech himself with some help from his wife Eleanor.
At the age of 36, Lou Gehrig had already started the dying process as he stood in front of 61,000 faithful Yankee fans and delivered one of the greatest speeches in U.S. history. The date was July 4, 1939 – exactly 76 years ago today.
The month before, after six days of testing at the Mayo Clinic, doctors broke the news to Gehrig that he was suffering from the rare disease amyotrophic lateral sclerosis – referred to today as ALS or Lou Gehrig's Disease.
ALS is a progressive disease that affects the muscle cells in the brain and spinal cord. When afflicted, those muscles stop receiving nourishment and begin to atrophy. The symptoms may be so light at onset that they are not detected. But in the end, the neurons that control muscle mobility die from lack of nourishment and the victims can lose the ability to speak, to eat, to move, and even to breathe.
In Lou Gehrig's case, this still young and virile "Iron Horse" who played in 2,130 consecutive games between June 1, 1925 and May 2, 1939, had been diagnosed with "no more than a few years to live."
Gehrig's record stood for 56 years until it was broken by Cal Ripken, Jr. of the Baltimore Orioles on September 6, 1995.
Lou Gehrig was a New Yorker through and through. Born at home at 309 East 94th Street in Manhattan, to German immigrant parents, he went to grades 1 thru 12 in the city, attended Columbia University for two years on a football scholarship, and spent his entire 17-year big-league career with the Yankees. In 2,164 games, he hit 493 home runs, drove in 1,995 runs, and batted .340 lifetime.
Less than two years after his farewell address, Gehrig died at his home in the Riverdale section of the Bronx – not far from Yankee Stadium. The date was June 2, 1941.
Pride of the Yankees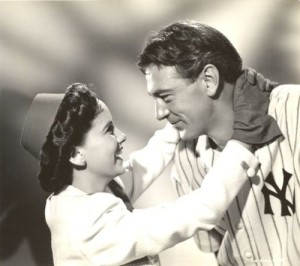 But the legend of Lou Gehrig lives on forever thanks to the maudlin Hollywood production Pride of the Yankees which starred Gary Cooper as Lou Gehrig and Teresa Wright as Eleanor Gehrig.
By the way, while Lou Gehrig was left-handed, Gary Cooper was right-handed. When batting and throwing, Cooper couldn't make himself look smooth enough turning around the other way. So Hollywood used mirrors to turn Cooper around on film and make him appear to bat and throw left-handed.
Barry Bowe is the author of Born to Be Wild, 1964 – The Year the Phillies Blew the Pennant, and 12 Best Eagles QBs.