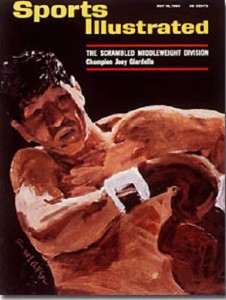 South Philadelphia middleweight champion Joey Giardello appeared on this week's cover of Sports Illustrated.
The date was May 19, 1964.
Seven months later, he defended his belt by out-pointing Rubin "Hurricane" Carter in a December title match.
Some 35 years later, in Norman Jewison's 1999 movie The Hurricane, Giardello was portrayed as a punch-drunk, brutalized fighter who won a racially-motivated decision in that match with Carter. Giardello sued and was awarded damages due to the "inaccurate depiction of him and the manner of victory."
In breaking news regarding the Cold War, the State Department announced that a network of more than 40 microphones had been found embedded within the walls of the U.S. Embassy in Moscow (pictured in header).
---
After taking 3-of-4 from the Colt 45s in Houston, the Phillies traveled to San Francisco to begin a three-game series with the Giants. Since the two teams were in a virtual tie, this was a showdown for first place.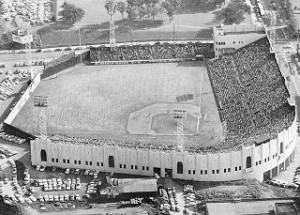 Six years earlier, the Giants relocated from New York to San Francisco to begin the 1958 season. During the 1958 and 1959 seasons, the Giants played in Seals Stadium, which had been the home of the AAA Pacific Coast League San Francisco Seals from 1931 to 1957.
Candlestick Park, the Giants new stadium, opened for business in 1960 and became the home of both the Giants and the NFL's 49ers.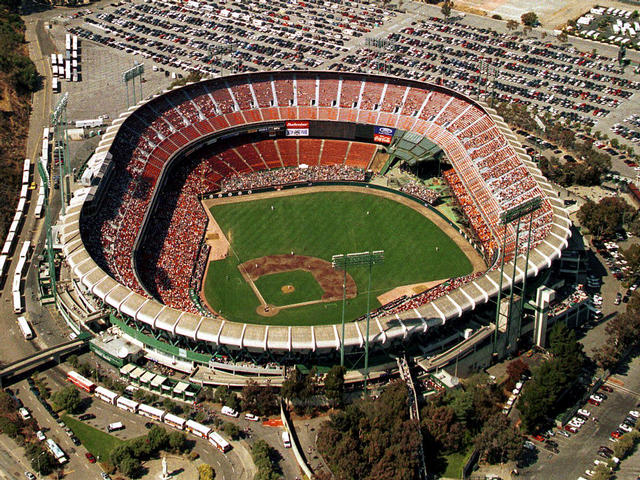 It was Dennis Bennett (4-2) versus Jack Sanford (3-3) in the series opener.
Jack Sanford won Rookie of the Year honors with the Phillies in 1957 by going 19-8. He was 24-7 with the Giants in 1962 before slumping to 16-13 last season. This season, his three wins were over the Braves, Reds, and Colts.
Dennis Bennett won his last two starts ─ his last outing being a one-hit shutout over the Colts.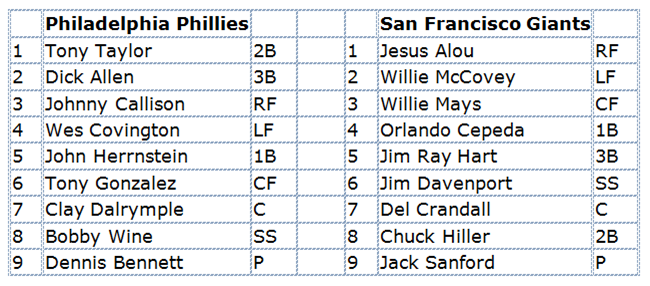 Both pitchers threw six shutout innings to start the game. Jack Sanford gave up three hits and Dennis Bennett gave up four.
In the bottom of the seventh, Jim Ray Hart led off with a single and moved to second when Jim Davenport laid down a sacrifice bunt.
Del Crandall singled Hart across the plate to make it 1-0.
One out later, Jack Sanford singled. Crandall was going to stop at third, but Wes Covington had trouble gloving the ball and allowed Crandall to score to bump the lead to 2-0.
Sanford shut the Phillies down in the eighth.
In the bottom of the eighth, Willie Mays walked with one out.
After Orlando Cepeda fouled out to the catcher for the second out, Jim Ray Hart doubled and Mays scored to make it 3-0.
Jack Sanford (4-3) completed a four-hit shutout, striking out six and walking two. Dennis Bennett (4-3) took the loss.
The Giants thus took a one-game lead over the Phillies.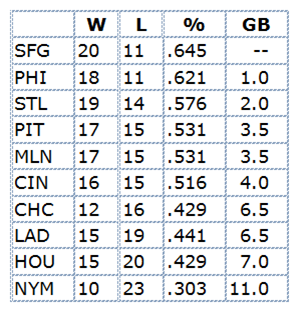 (Excerpted from 1964 – The Year the Phillies Blew the Pennant by Barry Bowe.)