Public Service Announcement
NFL greed runs rampant in 2016.
NFL fans, if you haven't noticed yet, on Sunday, the Colts-Jaguars game is scheduled to start at 9:30 in the morning. Please don't be confused. That's 2:30 p.m. in London. Not in Indianapolis. Not in Jacksonville.
That's where the game's being played. London. 3,500 miles from Philly. Even farther from Indy or Jacksonville.
For you fans on the East Coast, the game starts at 9:30 in the friggin morning. For you fans in other parts of the country the world, do the calculation yourself.
Greed
In my opinion, greed has pervaded the NFL under Roger Goodell's leadership.
Dear Roger, how much profit is enough?
The NFL shared $7.2-billion in revenue with every NFL team for fiscal year 2015. That's a lotta cake. That's $226.4-million per team.
Not a bad year. And that's before factoring in the profit each team generates on its own. Let's take a quick look at the Eagles. According to Forbes, the Eagles' revenues for 2015 were $407-million. Let's subtract $105-million for Operating Expenses and $188-million for Player Expenses and see what we get.

By my reckoning, that's a cool $114-mil – before we throw the $226.4-mil from the NFL on top of the pile. For Christ sake, that's more money than Scrooge McDuck ever saw.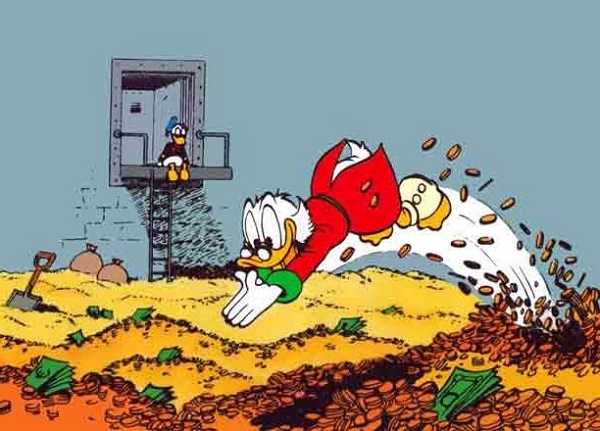 Global
The commissioner is determined to make the NFL a global entity. Sell merchandise like T-shirts, jerseys, and all sorts of crap to people all around the world. Make more money. Greed.
In case you haven't noticed, the NFL enlisted Peyton Manning to be its shill to promote its new global offering: the China Arena Football League. NFL Europe didn't work, but if Chinese sports enthusiast start eating their chop suey while watching American football, you know there's more to come. Football over:
Wiener schnitzel and beer in Germany
Tacos and cerveza in Mexico
Sushi and sake in Japan.
Like the NFL's not already over-exposed.
Cost to You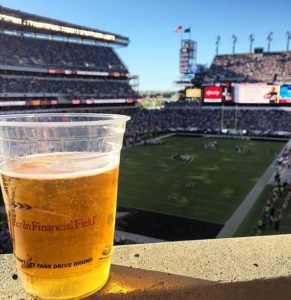 The Eagles are charging you $40 to park this year. That's criminal. Should be free.
You gotta hit the bank machine on the way to the stadium to pay for concessions. Your 12-ounces of beer cost $8.50 at the Linc in 2015. That's 71-cents/ounce. By the way, that was the highest price in the NFL last season. Next closest was 63-cents/ounce in San Francisco.
And everything else is over-priced as well. You know it better than I do because I refuse to pad the pockets of the players – many of whom I can't stand on a personal level.
Inconvenience
Goodell doesn't – pardon my French – give a fuck who's inconvenienced by global expansion:
I don't want to get up early tomorrow morning to watch a crappy game. But I will. Because I'm playing a football pool and a couple contests on FanDuel. The NFL is longer just football. It's an amusement park. A casino.
I could just as easily sleep in, but I won't. I'll choose the inconvenience. And you probably will, too.
Season ticket holders in Indianapolis or Jacksonville – or wherever the game would've been played – now have one regular-season game whittled from their schedule.
I'll be up watching the game, but I'm not happy about it.
Fuck Roger Goodell and the money train he's driving. And fuck the scum who don't stand for the Anthem. If Goodell had balls, he'd put his foot down. But he doesn't, and he won't. All he cares about is the root of all evil.
---
In addition to being the official Eagles Outsider for BlameMyFather.com – Barry Bowe is also the author of:
Soon-to-be-published sexy, police procedural Caribbean Queen
Soon-to-be-published novel Stosh Wadzinski
Soon-to-be-published novel Polish Widow
Work-in-Progress A Fuckin All-American