Broken Heart
It broke my heart when the Eagles traded Nicky Football to the Rams.
As an EaglesOutsider, I've been a staunch Foles-backer since his rookie season. The notion of trading a young quarterback with so much potential – and still on his rookie contract – in exchange for a quarterback who can park legally in Handicap Zones and who has a monster contract – made absolutely no sense to me.
However, as a lifelong Eagles fan, I hope-to-hell the deal works out for the Birds.
Meanwhile, I'll continue to maintain my Nicky Football Fan Page and root for Nick Foles to become the Franchise Quarterback I believe him to be. And it appears that Rams coach Jeff Fisher believes that Nick Foles will be the Franchise Quarterback the Rams need to make a Super Bowl run, so he's begun preliminary talks with Foles' agent David Dunn about a contract extension.
"We've had some discussions. I think with what Nick has done early in his career, he has proven that he can get the job done on the field. He's carried things on here, so we are going to continue to talk and see if we can get something that's good for both sides." – Jeff Fisher
Here's a 45-second video with NFL Insider Ian Rappaport on the NFL Channel on the negotiations:
Foles – who was never embraced by Chip Kelly – feels wanted with the Rams.
"This is where I want to play. As a player, you want to be somewhere you want to play the rest of your career. This is where I want to be, but that's why we have agents. My most important thing right now is continuing to work with my teammates and continue to be the best player and person I can be. We'll see what happens but I want to be here, I love Coach Fisher and the staff. I am very fortunate to be here." – Nick Foles
Where's Wadlo?
Pictured below is Nicky Football with his new set of Rams receivers. Can you pick him out?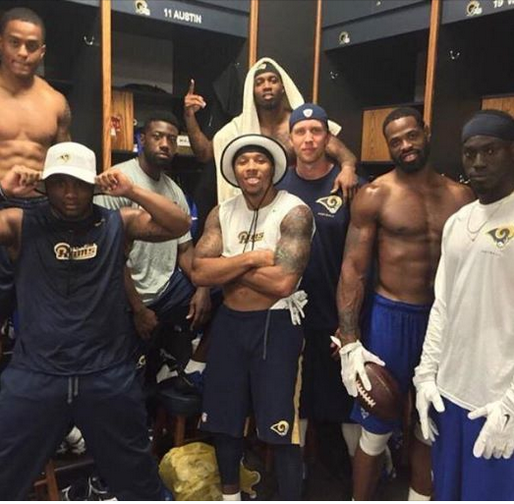 With the possibility of the Rams moving to Los Angeles in the near future, locking up key veterans right now has become a priority in St. Louis.
Look for Nicky Football to find himself in the $15-million range on his new deal. That would be good business for the Rams. If Foles has a monster year this season, he would propel himself into the $25-million category.
I'll be rooting for a monster season for Nicky Football.
Barry Bowe is the author of Born to Be Wild, 1964 – The Year the Phillies Blew the Pennant, and 12 Best Eagles QBs.