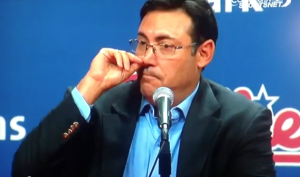 The Phillies arteries are clogged. They were a bad team in 2013; they were a bad team in 2014, and they're going to be worse in 2015. Arteriosclerosis should've been diagnosed after the 2009 World Series loss to the Yankees – but the impending doom went undetected by GM Ruben Amaro.
If I were a patient who needed bypass surgery and Amaro were my cardiologist, I'd be making out my will and buying a casket. My beloved Phillies are doomed to be near the bottom of the NL East for the next few years.
The handwriting was on the wall, but Amaro failed to see it.
In 2009, Jimmy Rollins was a 30-year-old shortstop who hit .250 with just a .296 OBP. His production numbers had declined dramatically from his spectacular MVP season just two years earlier. I better whisper this so that J-Roll fans don't jump all over me – but I've always thought Jimmy's play was enhanced in that MVP season. His numbers were never as good before or after.
That season reminded me of Brady Anderson's 1996 season when Anderson hit 50 HRs. Anderson's "Before" best was 21 HRs in 1992 and his "After" best was 24 HRs in 1999. Take a look at the photo of Brady Anderson and draw your own conclusion.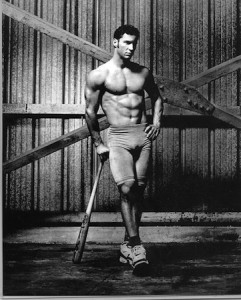 That's the same conclusion I drew about Jimmy's MVP season. When it comes to anyone who played during the Steroid Age, nothing would surprise me.
After the 2009 season, the Phillies core was getting old. Carlos Ruiz, Chase Utley, Jayson Werth, and Cliff Lee were also 30. Ryan Howard was 29 and Shane Victorino was 28. And the complimentary players were growing old as well. Jamie Moyer was 46, Matt Stairs 41, Raul Ibanez, Scott Eyre, Pedro Martinez, and Scott Bako were 37, Chris Coste 36, Miguel Cairo 35, Pedro Feliz 34, J. C. Romero 33, Eric Bruntlett 31, Greg Dobbs 30, and Joe Blanton was 28.
Amaro should've started making changes piece by piece while the core players still retained maximum trade value. It's so much easier to change a piece here and a piece there than it is to make wholesale changes – which is what's been needed for the past several seasons.
But he didn't. During the offseason Amaro let Feliz, Stairs, Martinez, Eyre, Coste, Cairo, and Bruntlett walk as free agents. Instead of beginning some sort of youth movement, during the course of the season, he added aging veterans – Juan Castro 38; Mike Sweeney and Nelson Figueroa who were both 36; Placido Polanco, Ross Gload, Paul Hoover, and Cody Ransom who were all 34; Roy Halladay 33; Wilson Valdez, Chad Durbin, and Roy Oswalt who were 32; and Dane Sardinha 31.
Yes, Polanco, Halladay and Oswalt were good additions, but they weren't kids. The rest of the additions were nothing more than appliques in a patchwork quilt. The only hint of a youth movement was 22-year-old Domonic Brown who got into 35 games.
So here we are, five years later, and the Phillies are headed nowhere but down.
Finally, Jimmy Rollins is gone, dealt to the Dodgers, but I've fingered seven key players who are currently clogging the Phillies arteries – Ryan Howard, Jonathan Papelbon, Cliff Lee, Carlos Ruiz, Domonic Brown, Ben Revere, and Chase Utley. Those players should be moved – one way or another – ASAP. And I'm including the name of Cole Hamels as well.
Don't get me wrong. Cole Hamels isn't part of the problem. But now, closing in on 31, he's not part of the solution either. By the time the Phillies are ready to compete again, Cole Hamels will be done. Trade him now. His trade value will never be higher.
Let's take a quick peep at the other seven players – many of whom have impossible contracts to move – yet, who must be moved if the Phillies are ever going to turn things back around.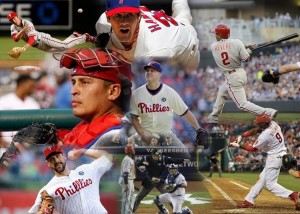 Ryan Howard was a great Phillie – but his days of greatness are long gone. He can't run, he can't field, and he's no longer a threat at the plate. He's now the blind squirrel who occasionally hits the long ball.
Jonathan Papelbon is a grossly-overpaid, slightly-better-than-average closer. His numbers look respectable, but an overpaid closer isn't an asset to a team taking aim at 100 losses this season.
Cliff Lee gained a multitude of fans when he made that swatting catch in the 2009 World Series. But since his return to the Phils in 2011, he's recorded 17 wins, 6 wins, 14 wins, and 4 wins. Plus, he's suffered his share of injuries. At 37, he's not going to bounce back.
Carlos Ruiz is the Phillies catcher for only one reason – they don't have anyone in the system to replace him – which is another indictment of Amaro's generalship. Chooch is 36 and his numbers have dipped from 16 HRs and .325 in 2012 to 6 HRs and .252 last season.
Dominic Brown is a joke. He's advertised as a three-tool player, but he doesn't seem to hit, run, or field very well come game-time. He reminds me of Mike Mamula, who excelled at the NFL Combine – but never duplicated those expectations on the field.
Ben Revere isn't a starting MLB centerfielder. Sure, he hit .305 and .306 in his two years in Philly, and he stole 49 bases last season – but his numbers are hollow. As a leadoff hitter, he walked just 45 times and scored just 108 times in those two seasons. Add in the facts that he doesn't field his position well and his arm is weak beyond description, and he's lucky to be in the league.
Chase Utley is over the hill, constantly fighting nagging pains to stay in the lineup, and he wears down as the season progresses. He's here because he won't approve a trade. Yes, he's a fan favorite and, for sentimental reasons, many fans want him to spend his entire career with the Phillies. That's noble, but he's blocking the development of younger players. He's taking the Phillies nowhere.
These players are clogging the Phillies arteries.
Ruben Amaro must clean house or else – or else the Phillies are headed for the basement.
Barry Bowe is the author of 1964 – The Year the Phillies Blew the Pennant and Born to Be Wild.