Got this message Friday afternoon on Twitter.

In case you don't know sunset shazz, he's one of my favorite Twitter buddies – and he also owns the distinction of being blocked by CSN's Eagles guru Reuben Frank, So, SS, you asked for it.
Horse racing traces its origin as far back as Ancient Greece, Babylon, Syria, and Egypt. In North America, horse racing began at the Newmarket race course on what is now Long Island in 1665. I used the term "North America" because the year 1665 was better than one hundred years before the United States came into being.
Over the next 200 years, race courses sprouted up in various parts of the United States and Canada. Then, in 1868, the American Stud Book was created and horse racing became organized. The American Stud Book traces the bloodlines of every thoroughbred horse foaled in the United States, Canada, and Puerto Rico. It is the Social Register of thoroughbred horse racing.
The Triple Crown consists of three races – the Kentucky Derby, the Preakness, and the Belmont. Those three races came into being separately – the Belmont in 1867, the Preakness in 1873, and the Derby in 1887 – and they weren't combined into the Triple Crown until 1919.
Before 1931, the Preakness was run prior to the Kentucky Derby. Since 1931, the order has remained as it is today:
• The Kentucky Derby or "The Run for the Roses" is run on the first Saturday in May at Churchill Downs in Louisville, Kentucky, at a distance of one mile and a quarter.
• The Preakness Stakes or "The Run for the Black-Eyed Susans" is run on the third Saturday in May at Pimlico Race Course in Baltimore, Maryland, at a distance of one mile and three-sixteenths.
• The Belmont Stakes or "The Test of the Champion" is run on the first or second Saturday in June at Belmont Park in Elmont, New York, over a distance of one mile and a half.
The Triple Crown is for three-year-old thoroughbred horses and it's a grueling test. To run three top-level races in such close proximity to one another – the last of which is run at a longer distance than any of the horses have ever run before – is a daunting task. In fact, there are few horses that enter all three races any more.
The fact that there has not been a Triple Crown winner since 1978 – for the last 37 years – bears witness to the enormity of the task. There have only been eleven Triple Crown winners and they're listed below.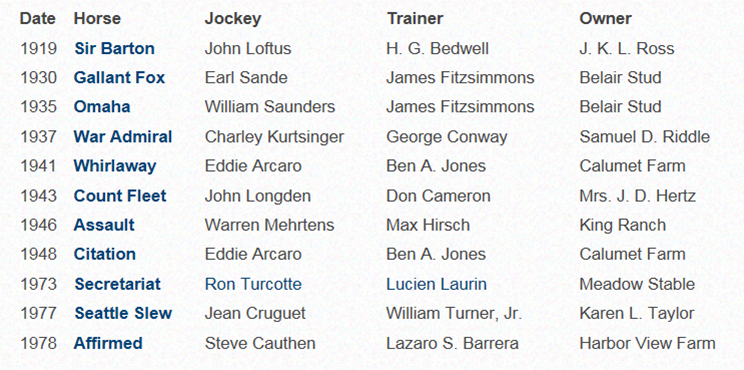 However, that fact may change today, June 6, 2015, with the 147th running of the Belmont Stakes when eight horses enter the starting gate around 6:50 this evening. American Pharoah is going to be the favorite to win the Belmont – and thus the Triple Crown.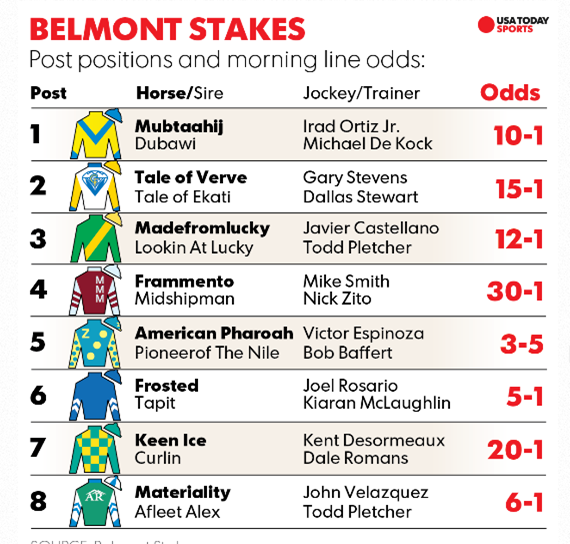 American Pharoah won the Derby with a mad dash down the homestretch on May 2 – winning by one length – and then blew away the field by seven lengths in a wire-to-wire romp at the Preakness on May 16. American Pharoah is easily the best horse entered in the Belmont – but, remember, the best horse doesn't always win.
• Can American Pharoah handle the short turn-around and extended distance of today's race?
Remember, no horse has accomplished the feat for the last 37 years.
• Is there another horse laying in wait for American Pharoah? Another horse that skipped the Preakness and rested since the Derby five weeks ago?
Mubtaahij, Frammento, Frosted, Keen Ice, and Materiality all ran in the Derby but skipped the Preakness. They're all better rested than American Pharoah.
• Is there a faster horse in the field?
After losing his first race at Delmar last August, American Pharoah has won six straight races – all of them except for the Derby by open lengths. American Pharoah has racked up speed ratings of 100 or better in four races – his highest being a 103 in the Delmar Futurity last September. But Frosted ran a 107 in the Wood Memorial at Aqueduct on April 15. And Materiality ran a 105 in the Florida Derby at Gulfstream on March 28.
So there are two horses that, theoretically, can run faster than American Pharoah.
• Will American Pharoah get a clean trip? No crowding? No bumping? No collusion between other jockeys trying to block American Pharoah's chances?
• Will American Pharoah get a good ride from jockey Victor Espinoza?
Between you and me, Espinoza's job should be relatively easy. Just make sure that American Pharoah gets out of the gate quickly and the horse will take over from there. With only eight horses in the race and breaking from the fifth post, Espinoza should have little trouble getting American Pharoah out in front. From there, it's all up to American Pharoah.
It's called "The Test of the Champion" for a reason. If American Pharoah is a champion, he will win the race. If not, he won't.
Most of the money will be bet on American Pharoah – but not all of it will be bet on American Pharoah to win. Why?
Because American Pharoah should win this race and everyone knows it. As a result, American Pharoah is going to be a prohibitive favorite in today's race. "Prohibitive favorite" means that his odds are going to so low that – from a betting standpoint – betting on American Pharoah to win is an extremely poor risk-to-reward bet.
If you bet $2 on American Pharoah to win, you'll cash around $2.60 – if you're lucky – and if American Pharoah does, in fact, win. That's a profit of sixty cents on a $2 bet – not much to defray next month's mortgage payment or to fund a Caribbean getaway.
But in a horse race, anything can happen. American Pharoah can lose. It's hard to believe, but American Pharoah could finish second or third – or worse.
So the "smart" money will be bet on American Pharoah to show – or to come in third. If American Pharoah comes in first, second, or third, show bettors still collect on their bets. The show payoff will be smaller than the win payoff – around $2.20 compared to the $2.60 or so to win – but the show bet is pretty much a "sure thing" in today's race.
You'll see a ton of money in American Pharoah's show pool.
American Pharoah is what regulars at the race track call a "bridge jumper."
A bridge jumper is such a sure thing, that some bettors will bet the proverbial ranch on a bridge jumper. I have a friend who'll be betting $10,000 on American Pharoah to show. If American Pharoah comes in first, second, or third, my buddy will collect his $10,000 plus a profit of $500 – talk about a lousy risk-to-reward ratio.
It's called a bridge jumper because when someone loses the proverbial ranch, he wants to jump off a bridge and end it all.
I think he's nuts, but he's successful betting in that manner.
You might want to place a bet on one of the other horses to win – a horse with higher odds – a horse with less of a chance to win but one that offers a better risk-to-reward ratio and a better payoff.
You may want to try to hook American Pharoah up with other horses in the exacta, trifecta, and superfecta and hope to catch longshots coming in second and third and fourth in combinations with American Pharoah.
You may want to bet American Pharoah to win just so you can brag to your grandchildren about placing a bet on the first Triple Crown winner in 37 years.
Myself, I'm going to be betting against the bridge jumper. I'm going to place a show bet on all eight horses in the race. At $2 per bet, I'll be betting a total of $16. And then I'll be rooting against American Pharoah. I'll be rooting for American Pharoah to finish fourth or worse – out of the money. If that happens, the show payoffs will be large and I can expect to collect $100 or so for my $16 wager – perhaps more.
If American Pharoah finishes in the money, I'll still cash three show tickets – but they're only add up to less than the amount I bet. I did the same thing in the Preakness. With a longshot finishing second behind American Pharoah, I actually made a profit of 80 cents instead of losing money.
So for financial reasons, I'll be rooting against American Pharoah and against a Triple Crown winner. But since I'm only risking $16, I'll also be rooting for American Pharoah and hoping he wins the Triple Crown.
The worst I can do is lose around $9 while horse racing history is being made. The way I see it, I win either way.
Barry Bowe is the author of Born to Be Wild, 1964 – The Year the Phillies Blew the Pennant, and 12 Best Eagles QBs.