Where's My Next Idea?
You never know where you're going to find your next idea.
This morning, I found an idea in a curious place – straight from the mouth of Angelo Cataldi on the Morning Show on WIP. For me, it's a curious place because I've refused to listen to his show for at least ten years now.
But as it works out, I was listening to WIP on the Saturday afternoon before Father's Day and was surprised to hear Marc Farzetta and Hollis Thomas teamed up. Marc and Hollis are two of my favorites.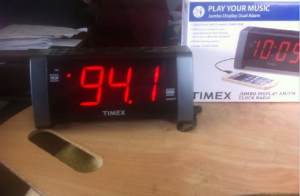 I had to call even though – as I quickly informed them – I had little to add to their show. Just wanted to communicate. But I did inform them that by this time the next day, Father's Day, I would've already opened the Father's Day present I requested from my family: a new radio.
Now, I told them, since I hadn't owned a radio for the last ten years, I'd be able to start listening to them on the Morning Show.
This confused Farzie somewhat because he knew I was a regular listener to WIP. But Tank figured it right out.
I explained that I listened on my car radio. You see, I'm in my car six nights per week from 4:30 until one o'clock in the morning. I listen to WIP unless someone's on the air who I don't like. Then I try the other station. And if they don't have someone I like, I switch over to music on my iPod.
So, thanks to Marc Farzetta and Hollis Thomas, I've been listening to the Morning Show for the last two weeks. And I'm both surprised and pleased to say that I like the show. Angelo's really pretty good and the cast of characters is a nice blend.
Anyway, this morning, Angelo announced that today was the 30th anniversary of Mike Schmidt wearing a wig – so that's today's idea. Thanks, Angelo.
Mike Schmidt Criticizes Phillies Fans
The Phillies was playing a three-game series against Expos at Stade Olympique (Olympic Stadium) in Montreal and a Canadian reporter interviewed Mike Schmidt. The interview appeared in Saturday's Montreal Gazette. In it, Schmidt criticized Phillies fans:
"I'll tell you something about playing in Philadelphia. Whatever I've got in my career now, I would have had a great deal more if I played in Los Angeles or Chicago. You name a town, somewhere where they were just grateful to have me around.

I drive in a hundred runs a year, hit forty home runs, probably have been on more winning teams in the course of my career than most guys. It's a damn shame to have negative fan reaction tied to it."
Schmidt also called Phillies fans:
a mob scene
uncontrollable
beyond help
Truth be told, Mike Schmidt wasn't having a good year. He was batting .237 with just nine home runs and 32 RBIs. Once one of the best glove-men in the history of third-basemen – he won ten Gold Gloves – he was slowing down at age 35 and wound up playing 106 games at first base that season to compensate for his diminishing defensive skills at third.
More truth be told, Mike Schmidt was never a fan favorite even when he was playing at the top of his game. He hit 30 or more home runs 13 times. Only Hank Aaron topped that mark – hitting 30 or more homers 15 times. In fact, Schmidt led the National League in home runs eight times.
Pete Rose played for the Phillies for five seasons – from 1979 thru 1983 – but he figured things out quickly:
"It's not hard to become a fan favorite in Philly. Play hard, get dirty. Cuss and spit and never let them see you loafing."
But Schmidt never figured it out. His scowling demeanor never struck the right note with the fans in Vet Stadium and his constant brooding made it seem like he never enjoyed playing baseball. And he was so good and so quick, and his movements on the field were so smooth it looked like he wasn't really trying.
Flashback to July 1, 1985
So when the Phillies came home from Montreal to begin a three-game series against the Cubs, the fans were locked and loaded for a thunderous barrage of boos. And they didn't disappoint.
The date was July 1, 1985 – thirty years ago today.
When the starting lineups were announced over the PA system, the boos reigned down at the sound of Mike Schmidt's name. So you just knew what the reaction was going to be when Schmidt took the field.
Big Surprise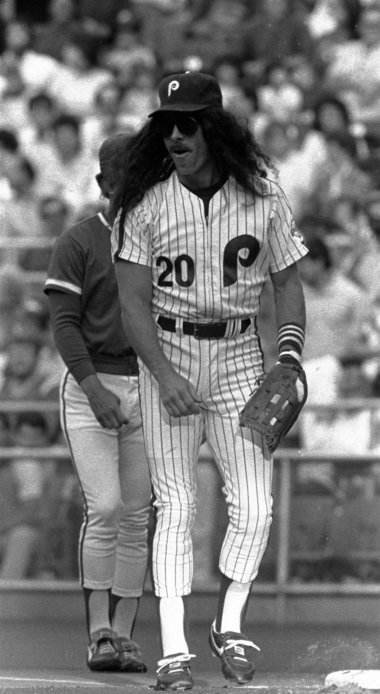 Phillies reliever – and current radio voice – Larry Anderson pulled a shoulder-length crimson wig out of somewhere, handed it to Schmidt, and told him to wear it when he ran onto the field.
And Schmidt followed instructions.
The crowd of 23,091 was struck boo-less at the sight of Schmidt running out to first base wearing Larry Anderson's wig and sunglasses and rolling simulated ground balls around the infield to Rick Schu at third, Steve Jeltz at short, and Juan Samuel at second.
The stunned silence evolved into whispers . . . and then a crescendo of outright laughter . . . and finally a standing ovation.
Mike Schmidt – thanks to Larry Anderson's ridiculous-looking wig – had taken a potentially ugly situation and transformed it into humor and appreciation.
Too bad the humor and appreciation didn't sustain for very long.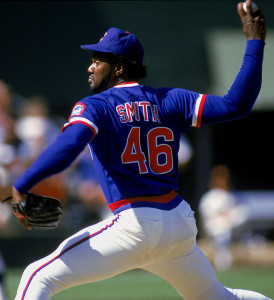 The score stood at 3-1 Cubs going into the bottom of the ninth – with monster closer Lee Smith on the mound.
• Von Hayes led off with a single.
• Then Smith bore down and struck out pinch-hitter Derrel Thomas and Juan Samuel.
• Pinch-hitter Tim Corcoran worked Smith for a walk to put the tying run on base and make it first and second with two outs.
• Mike Schmidt then stepped to the plate amidst a chorus of encouraging cheers – but less than two minutes later he was lustily booed off the field when he struck out to end the game.
Barry Bowe is the author of Born to Be Wild, 1964 – The Year the Phillies Blew the Pennant, and 12 Best Eagles QBs.