BREAKING NEWS

By now you probably heard. Aaron Hernandez hanged himself with a bedsheet tied to a window in his cell sometime during the overnight. Guards found him at 3:05 a.m. April 19, 2017.

In my opinion, a coward's way out. But what do I know?

I wrote the column below on January 31, 2015, in the days leading up to the Super Bowl.

---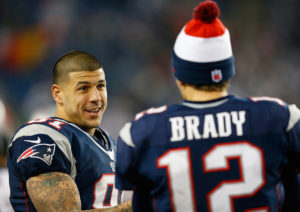 Super Bowl XLVI was played three years ago, on February 5, 2012, at Lucas Oil Stadium in Indianapolis. It was the 13-3 Patriots versus the 9-7 Giants.
Near the beginning of the third quarter, the Patriots were leading 10-9 and driving deep into Giants territory. At the 11:20 mark, Tom Brady hit Aaron Hernandez with a 12-yard TD pass. Stephen Gostowski kicked the PAT and the Pats led 17-9.
For the Giants, Lawrence Tynes kicked two FGs before the third quarter ended to cut the lead to 17-15. And that's the way the score stood until Ahmad Bradshaw ran in the winning score for the Giants from six yards out with just 0:57 remaining in the game to make the final score 21-17.
---
So here we are three year later.
The Patriots are meeting the Seahawks in Super Bowl XLIX tomorrow at 6:30 p.m. in Arizona and Aaron Hernandez is standing trial in Massachusetts – charged with murdering Odin Lloyd back on June 17, 2013. Authorities arrested Hernandez nine days later – and the Patriots released him just 90 minutes after he was arrested. Hernandez had a $40-million contract with the Patriots at the time of his arrest.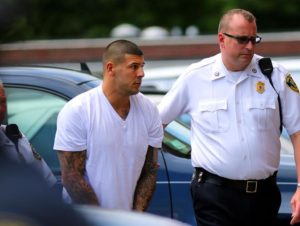 After the second day of testimony on Friday, the judge recessed the trial for the weekend. The 18 jurors are not sequestered. They are home, but they are not permitted to discuss the case with anyone. They are permitted to watch the Super Bowl – but with a special caveat from Bristol County Superior Court Judge Susan Garsh. Since Hernandez scored that aforementioned touchdown in Super Bowl XLVI, it's quite possible that his name might be mentioned during tomorrow's telecast.
"You hear that word," Judge Garsh instructed the jurors, "you've got to walk out of the room. Distance yourself."
Hernandez was the leading Patriots receiver in that Super Bowl with eight receptions for 67 yards and that one TD – and he'd just completed an excellent season of 79 catches for 910 yards and seven TDs.
Today, Aaron Hernandez is Inmate #174594 in the Bristol County House of Correction in North Dartmouth, Massachusetts. As a high-profile inmate, he's kept in isolation from the prison's general population.
Aaron Hernandez is not allowed to watch the Super Bowl on Sunday.
What a waste. What a dope.
---

Barry Bowe is also the author of Born to Be Wild and his new baby titled 21 Years.
21 Years follows the footsteps of Blacklist, Sons of Anarchy, Narcos, House of Cards, and Breaking Bad. If you like those shows, good chance you'll like 21 Years. Every episode available in all digital formats