Pitching Debuts
Aaron Nola and Angelo Cataldi made their pitching debuts on the Philadelphia sports scene yesterday. One pitcher fared well and the other not-so-well.
At 7:05 p.m. at Citizens Bank Park in South Philly, ballyhooed rookie Aaron Nola made an auspicious debut with the Phillies against the Tampa Bay Rays. The 6-1, 195-pound right-hander from Baton Rouge pitched six strong innings of five-hit baseball on a hot Sunday evening in front of an inflated crowd of 28,703 – many of whom showed up expressly to see Nola's first outing.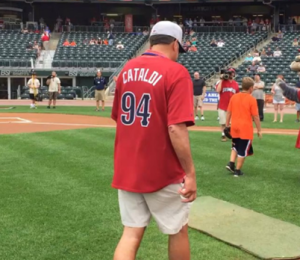 Some eight hours earlier and some 60 miles to the north, rag-armed Angelo Cataldi bounced a ceremonial first-pitch into the dirt at Coca-Cola Park in Allentown. The 64-year-old WIP sports-radio host from Moulin Rouge bounced his balls – sorry, make that singular – bounced his ball a good ten feet in front of home plate.
Cataldi followed a ten-year-old who fired a strike – see video below.
Nola showed an impressive assortment of fastballs, curveballs, and change-ups in his first big-league game. His lone blemish was surrendering a home run to his mound rival Nathan Karms in the top of the third. That run was all the scoring as the Phillies ended their four-game winning streak with a 1-0 loss to the Rays.
Nola will be back on the mound soon – Cataldi will not.
Barry Bowe is the author of:
Soon-to-be-published Caribbean Queen