Evading a Wolf-Pack
I called Jon Johnson on WIP late last night (Monday) to comment about Jonathan Papelbon's remarks to the national sports media. In case you missed them, here's the opening capsule of Papelbon's statement:
"That's not what I signed up for. I signed up with a team that won 102 games and I expected certain things. It didn't happen and I've tried to ride that ship and keep my mouth shut as much as I can. But it's time for the Phillies to you-know-what or get off the pot."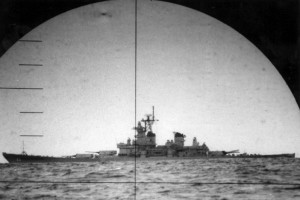 Well, he might've signed up for a team that won 102 games, but if he or his agent had performed a modicum of research, they would've seen an "Over-the-Hill Gang" ready to dive like a World War II submarine trying to evade a wolf-pack of enemy destroyers.
Between you and me, a capable general manager would've started tweaking the Phillies roster after the team lost the 2009 World Series to the Yankees. But the Phillies haven't had a capable general manager prior to hiring Ruben Amaro.
Also between you and me, I never liked Jonathan Papelbon. Not when he was with the Red Sox and not while he's been a member of the Phillies.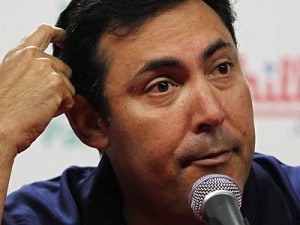 If I were general manager of the Phillies, Jonathan Papelbon would not be a Phillie. But – alas and alack – I'm not general manager of the Phillies. As I already mentioned, Ruben Amaro holds that position and he signed Papelbon to an absurd contract back in 2012.
How absurd?
How about $50,000,058 over four years – broken down like so:
$11,000,058 in 2012
$13,000,000 in 2013
$13,000,000 in 2014
$13,000,000 in 2015
Good after Bad
For all intent and purpose, bad money has already been paid to Papelbon. But if one of two things happens by the end of this 2015 baseball season, Papelbon has a kicker (vesting option) in his contract that mandates the Phillies paying him good money after bad in the form of another $13-mil in 2016.
Last night, I told Jon Johnson I would've issued two directives at the beginning of the season:
Limit Chase Utley's plate appearances.
Limit the number of games that Jonathan Papelbon finishes.
At this point, I'd let Papelbon rot with the Phillies over the balance of the season while making sure he didn't achieve the kicker on his contract. While Jon agreed with my sentiments in principle, he disagreed in practice. To support his stance, he played a Ruben Amaro cut from June.
In that cut, Amaro said he wouldn't manipulate the way Papelbon was used to retard his number of finishes. Jon then stressed the strength of the MLB Players Association. He said that my proposed manipulation would result in Papelbon's filing a grievance that he would surely win.
I was off the air by then – listening – and thinking . . .
So I tweeted Jon:
Sucker Born Every Minute?
Here's how a savvy general manager tries to out-smart the players' union. To guarantee next year's contract, Papelbon has to finish 100 games combined between last season (2014) and this season (2015).
Please note: As I interpret it, Papelbon's guarantee has nothing to do with appearances or saves. It has to do with how many games he finishes.
At this point, I can't undo last season and Papelbon finished 52 games last season. Doing some quick math, all he has to do is to finish 48 games this season and he gets his $13-mil next season.
Right now, at the All-Star break, he has 29 finishes and needs just 19 more in the 71 games remaining on the Phillies schedule. That's approximately one finish every 3½ games.
Tough task?
You bet.
Had I been given the whole season to limit Papelbon's finishes, it woulda been a piece of cake. But I've only got 71 games left and must limit him to no more than 18 finishes the rest of the way. So here's the formula:
He never goes into the last inning of a non-save situation – something Ryne Sandberg violated more than once.
In save situations, because I'm trying to groom my closers of the future, I would begin using combinations and permutations of Ken Giles and Jake Diekman along with Papelbon.
In save situations when I'm forced to go with Papelbon, I replace him with Diekman every time a lefty-on-lefty situation arises. That's accepted baseball strategy.
If all goes well, Papelbon comes up short. Based on their current .319 winning percentage, the Phillies are on pace to win just 23 of their remaining 71 games. Some of those wins will take place without save opportunities.
If all goes really well, the Phillies do get off the pot, there is a sucker born every minute, and the Phillies find one who's willing to take Papelbon off their hands on or around the Trade Deadline.
Barry Bowe is the author of:
Soon-to-be-released sexy police procedural Caribbean Queen