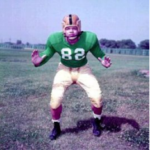 Wayne Edmonds was the first black to earn a football letter at Notre Dame. In fact, he earned letters in 1953, '54, and '55. But you probably never heard of him because he was an offensive tackle/defensive end.
And he was the only black to earn a letter at ND as the decade of the Fifties was coming to a close.
Floyd Little, a high school star from New Haven, Connecticut, was supposed to change all that with a splash. Notre Dame predicted he'd be an All-American. But a problem existed. No matter how talented you were as an athlete during that era, you couldn't gain entrance to a major college unless you passed the entrance exam. And Floyd Little couldn't pass the exam. He wasn't alone.
This was common back then. So common that, necessity being the mother of invention, college athletic departments created a solution … send their recruits to prep schools and get some tutoring.
Bordentown Military Institute
So the Notre Dame athletic department placed Floyd Little at the Bordentown Military Institute, southeast of Trenton, New Jersey, in the fall of 1961. By the way, former Phillie Chris Short and former Eagle Stan Walters also attended BMI.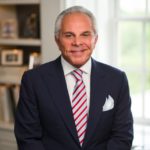 Little ran for 10 TDs in 1961 as the Cadets went 8-0. He shared the backfield duties with Joe Plumeri, a former star running back at Trenton Catholic Boys High and the longtime owner of the Trenton Thunder minor league baseball team.
But Little still couldn't pass the Notre Dame entrance exam. So it was back to BMI. Another 8-0 undefeated season in 1962. But Little was the solo star that season. He scored 25 TDs and gained national attention.
High Noon
It was in the middle of that football season that I had my High Noon with Floyd Little. But we'll get to that in a bit.
It's important to note that freshmen were not yet permitted to play on the varsity team. So most colleges fielded freshman teams, and that's who prep schools played. Other prep schools, college freshman and JV teams, and teams from trade schools and military bases.
Personally, at the Naval Academy Prep School in Bainbridge, Maryland, I played football against Stevens Trade School, the Navy plebes and the Temple freshman team … And basketball against teams like Fort Belvoir, George Washington freshman, and we even traveled into Virginia to play a prison team. That was interesting with the entire audience consisting of prisoners and prison guards.
As a college freshman at West Chester, I played football against the Quantico Marines, Bullis Prep, Villanova freshman, and Bordentown Military Institute.
Rising Star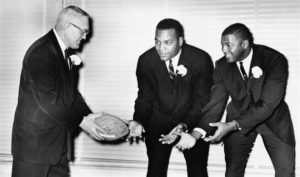 As many as thirty colleges were trying to lure Little away from Notre Dame. And Syracuse went to the top of the list when coach Ben Schwartzwalder showed up for one of Little's games. Along with him, the coach brought Ernie Davis. In 1961, Ernie Davis became the first black to win the Heisman Trophy. At Syracuse, Ernie Davis followed in the footsteps of Jim Brown. Both wore number-44 at Syracuse. As his ace-in-the-hole, Schwartzwalder wanted Floyd Little to carry on the tradition of #44.
Remember, by this time Jim Brown's already one of the best, if not the best running back to ever play in the NFL. So being #44 was a big deal
Little passed the entrance exam, said thanks-but-no-thanks to Notre Dame, and matriculated to Syracuse. He went on to become a three-time All-American and played with the Denver Broncos for nine seasons. But he didn't just play with the Bronocos, he played well enough to became a member of the NFL Hall of Fame.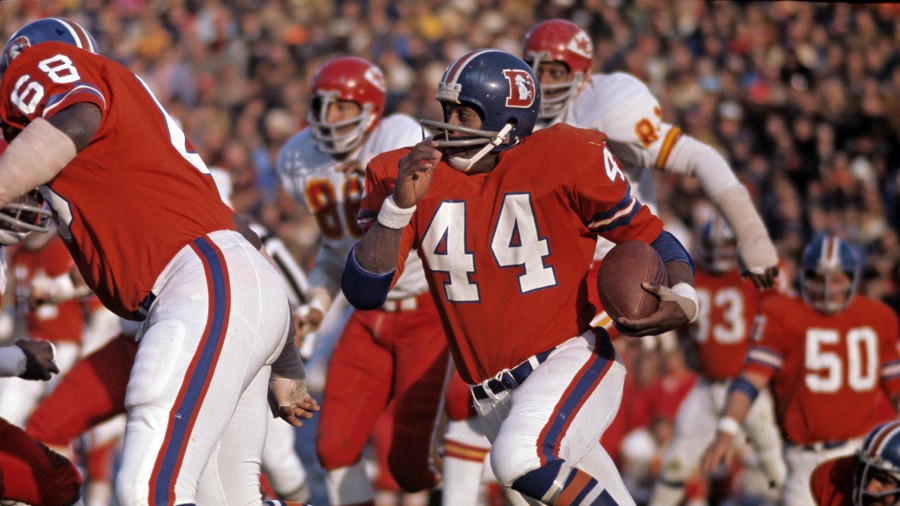 1962
So, let's get back to the 1962 football season.
I'm playing linebacker for the West Chester freshman team and Bordentown's on our schedule. I don't remember the date, but it was near the middle of the season. The week before the game, there was a hellacious rainstorm. We played our game on Saturday, in the rain, and as scheduled. But Bordentown postponed their game until the following Monday.
So a bunch of us piled into a car and drove to Bordentown on Monday afternoon to watch their game. Don't remember who they played.
Floyd Little's reputation proceeded him. He was headed to Notre Dame and all that. We also knew BMI was riding an undefeated streak, racking up a lotta points and holding their opponents to not so many. And we were told Little was scoring like three or four TDs a game. Some running, some catching, and still others on kickoff and punt returns.
So we scouted them.
I kept my eyes on every move Floyd Little made and diagrammed his plays. You see, I was going to shadow him in our upcoming game.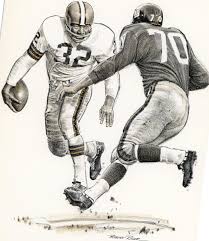 In 1960, CBS produced a TV special called "The Violent World of Sam Huff." It highlighted Huff shadowing the best running backs in the league. I used that show as the model for our upcoming game. I was going to play the role of Sam Huff and Floyd Little was going to play the role of Jim Brown. Although, of course, he had no idea of my intentions or preparation.
Gotta tell ya. That scouting paid off. I knew where Floyd Little was going on every play. On running plays, I was there to knock him on his ass with little or no gain, and sometimes a loss. And on passing plays I covered him like the proverbial blanket, either breaking up the passes or knocking him on his ass after a short gain, or no game.
"How'd that taste," I'd say matter-of-factly each time I tackled him .
Would love to tell you we won the game, but we lost. The score was something like 13-7. Floyd Little scored one TD – on a punt return when I wasn't on the field. I blanked him and was proud of myself, although I wished I'd played special teams that day. A win woulda been sweet.
After the game, we shook hands and walked away. Last time I ever saw him up close and personal.
---
Barry Bowe is America's Best Crime Writer. In his spare time, he sometimes writes books about the Eagles and the Phillies. For more info, visit his website barrybowe.com.