From the Desk of Eagles Outsider Barry Bowe
OCTOBER 17, 1954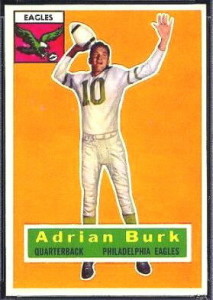 I was eleven years old when Eagles quarterback Adrian Burk threw seven touchdown passes against the Washington Redskins. I watched the game on TV.
The Eagles won 49-21 and Adrian Burk became just the second quarterback in NFL history to accomplish that feat – the first being Sid Luckman eleven years earlier. So it was a big deal.
As soon as the game ended, I went outside and played football with my buddies in the empty lot up the street – each one of us fighting to "be" Adrian Burk in our game. We all wanted to throw seven TD passes like Adrian Burk just did.
In that game way back when, Adrian Burk was the best quarterback I'd ever seen ─ taking snaps from center, handing off, dropping back to pass and throwing touchdowns all game long. That day, he hit:
Bobby Walston for 26 yards.
Pete Pihos for 18 yards.
Pete Pihos again, this time for 19 yards.
Bobby Walston again, this time for 5 yards.
Bobby Walston for the third time, this one for 4 yards.
Toy Ledbetter for 9 yards.
Pete Pihos for a third time, this time for three yards and with just ten seconds left in the game.
That day, Adrian Burk made an impression on me that's endured for better than 60 years. Over the years since then, until yesterday, just five more quarterbacks have joined the ranks of Sid Luckman and Adrian Burk:
George Blanda
Y. A. Tittle
Joe Kapp
Peyton Manning
Nick Foles
NOVEMBER 1, 2015
Yesterday, in a 52-49 barn-burner at the Superdome between the Giants and the Saints, Drew Brees went 40-for-50 thru the air for 511 yards. He also threw for seven TDs and thus became the eighth quarterback in NFL history to do so.
Here's a list of the receivers Drew Brees hit yesterday for TDs:
Willie Snead for 34 yards.
Brandin Cooks for 26 yards.
Marques Colston for 53 yards.
Willie Snead a second time, for two yards.
Brandin Cooks a second time, this one for 21 yards.
Benjamin Watson for 20 yards.
C. J. Spiller for 9 yards.
It would've been even more remarkable if both Drew Brees and Eli Manning threw for seven TDs in the same game – and it almost happened.
Eli Manning went 30-for-41 for 350 yards – and six TDs.
If the NFL keeps such records, then it is indeed a record: 13 TD passes in a single game.
---
Below is a collage of the eight quarterbacks who accomplished the feat.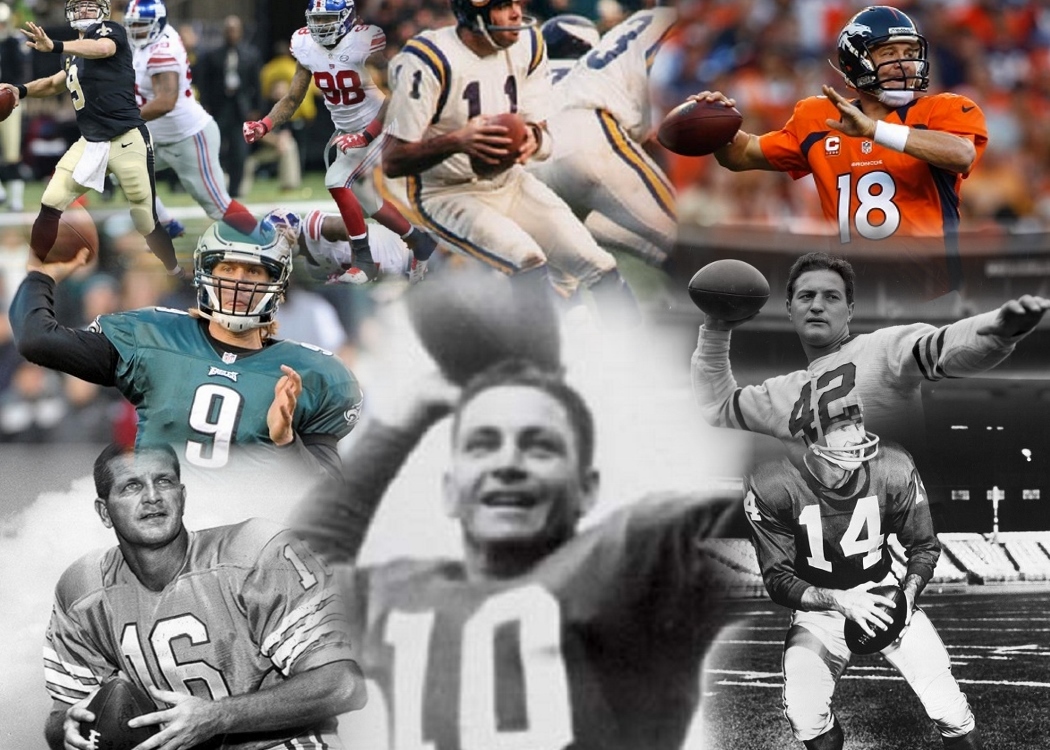 QBs with 7 TDs in a GAME
Here's a list of the eight quarterbacks who've thrown for seven TD passes in one game:
Sid Luckman – Chicago Bears beat New York Giants 56-7 on November 14, 1943.
Adrian Burk – Philadelphia Eagles beat the Washington Redskins 49-21 on October 17, 1954.
George Blanda – Houston Oilers beat the New York Titans 49-13 on November 19, 1961. Technically, this was prior to the merger between the NFL and AFL, but it's still included on the list.
Y. A. Tittle – New York Giants beat the Washington Redskins 49-34 on October 28, 1962.
Joe Kapp – Minnesota Vikings beat the Baltimore Colts 52-14 on September 28, 1969.
Peyton Manning – Denver Broncos beat the Baltimore Ravens 49-27 on September 5, 2013.
Nick Foles – Philadelphia Eagles beat the Oakland Raiders 49-20 on November 4, 2013.
Drew Brees – New Orleans Saints beat the New York Giants 52-49 on November 1, 2015.
---
In addition to being the official Eagles Outsider for BlameMyFather.com, Barry Bowe is also the author of:
Soon-to-be-published sexy, police procedural Caribbean Queen
Soon-to-be-published novel Stosh Wadzinski
Soon-to-be-published novel Polish Widow